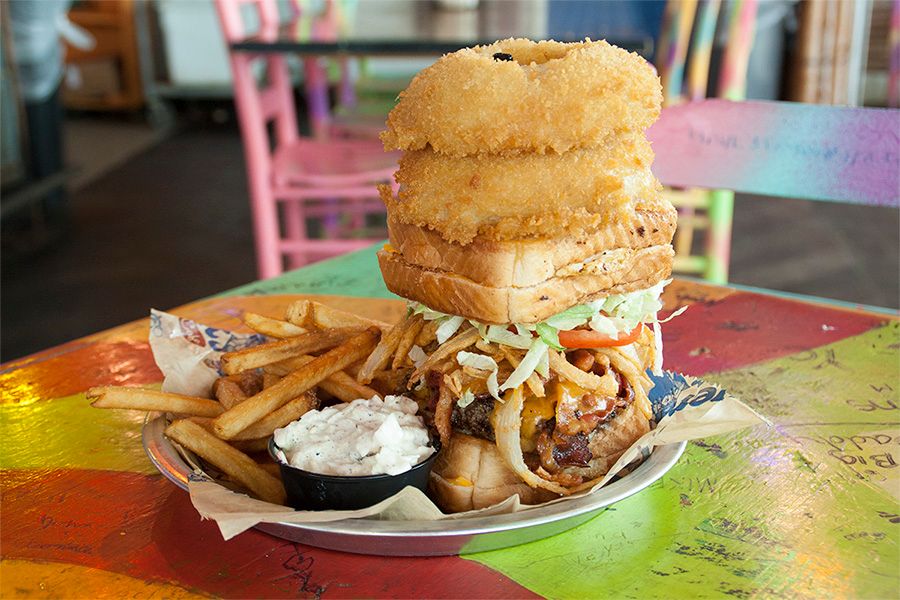 The average American eats 3 burgers per week. Not only do they eat burgers, but they post pictures of burgers all over social media. You will find almost 20 million uses of the #burger or #burgers on Instagram. Quite frequently these pictures and hashtags are accompanied by some "cheesy" saying (yeah we couldn't help ourselves) such as "I'm into fitness…..fittin this whole burger in my mouth!" or "yeah, I lift….this burger into my mouth!" or one of our favorites, "we go together like a burger and fries"…..
At River City Café we claim to be #allabouttheburger and that means we want to be more than just a popular social media feed. Of course, we want that too, but we want to make sure our guests are eating something worthy of the photos they are going to share! We want our guests to leave our restaurant with thoughts like "that was burgerlicious!" or "burgers are our love language!" Of course, this may all seem silly, but we do want our guests to love our burgers as much as we do.
We put a lot of effort and love into each burger we create. You don't come up with the Banana Pepper Jack Burger if you don't love burgers and mixing amazing flavors. Just for your information, the Banana Pepper Jack Burger features banana peppers piled on a burger with pepper jack cheese, lettuce, tomato, and chipotle mayo.
No matter what you are building in life, the key to success is starting with a high-quality foundation. This rings especially true when talking about hamburgers.  We spent a lot of time working with our suppliers developing the right blend of a burger. It isn't as simple as grabbing some 85/15 ground chuck at the grocery store, slapping it on the grill and a great burger comes out. No, we worked hard to find the perfect blend of meat that provides that juicy, flavorful burger that provides our guests with the #burgervibes they are looking for.
Once we got the proper foundation in place we went on the hunt for toppings. Of course, we have the standard options like cheeses, bacon, lettuce, onion, tomato, etc. While we pride ourselves on using fresh ingredients, we were never going to stop at normal. You will find all kinds of interesting combinations on our menu. Take our California Pizza Burger for example. It starts with our proven beef patty and then we top it with a fried round of provolone cheese, pepperoni, and some marinara sauce that we convinced our sister restaurant Ultimate California Pizza to help us with.
You could call us crazy over the Loco Burger, but we think you would agree with us that pulled pork BBQ piled on top of a beef patty, topped with pepper jack, pickles, lettuce, tomato and then smothered in our house-made ranch dressing. This burger is a must-try for any #burgerfanatic.
We love to see our guests enjoy our burgers, and we even get excited when they share their experiences with us on social media outlets. We get so excited that we even share them on our page. But the root of our goal as a #burgerjoint is to provide our guests with the perfect experience every time they choose to dine with us and that begins and ends with quality burgers, quality ingredients, and some imagination.