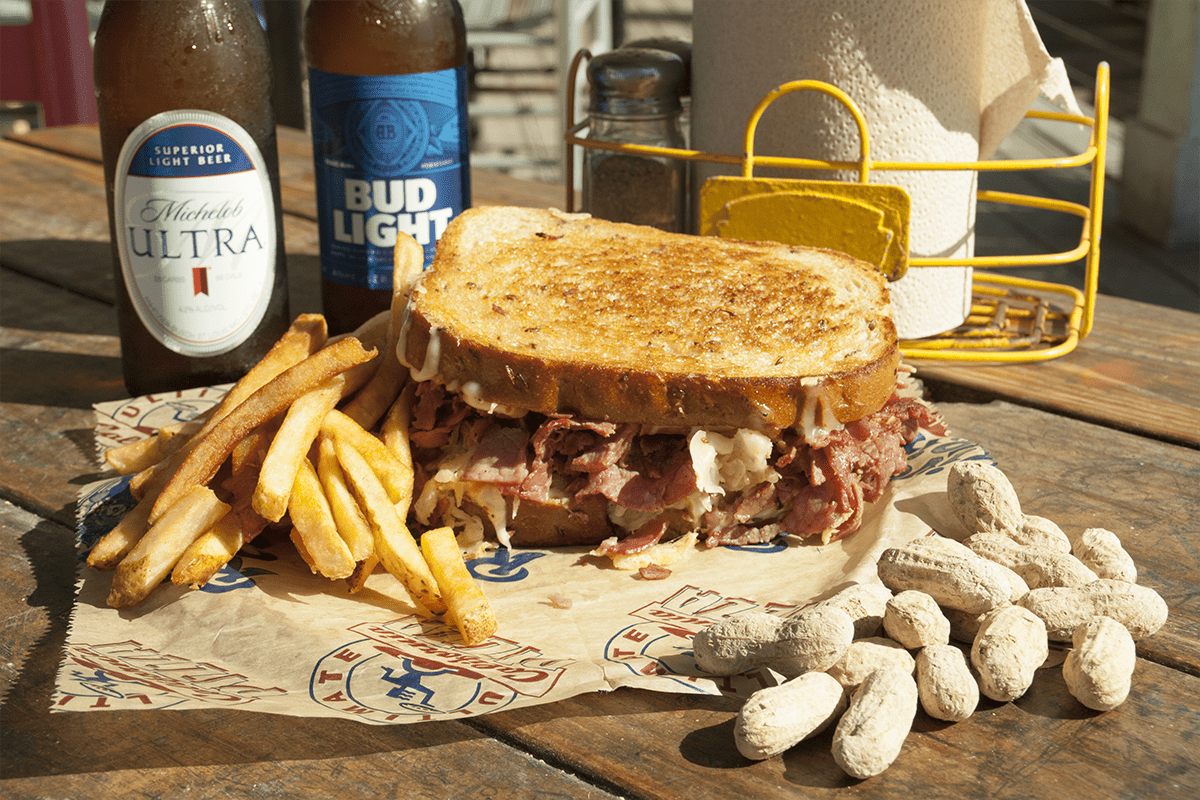 Did you know that the Reuben is the top hotel and restaurant sandwich in the U.S.? This sandwich has achieved legendary status at delis around the country and is a favorite at River City Cafe. It is extremely popular for many reasons. This hearty-sized sandwich combines rich, salty, savory, tangy, and sweet flavors wrapped inside a tart and earthy flavored bread. For this month's blog, let's take a deeper look into this delicious sandwich!
What does a Reuben consist of? A Reuben consists of thinly sliced corned beef, sauerkraut, Swiss cheese, Russian dressing, and rye bread. We use 1000 Island dressing at River City Cafe. The corned beef provides a salty and fatty flavor. The dressing provides a rich and savory taste, the sweet taste comes from the Swiss cheese, and you can thank the sauerkraut for the tang. Hot or cold, the Reuben is a perfectly balanced sandwich.
Who is responsible for the Reuben? Like so many other food items, the history is just as messy as the sandwich can be. But most can agree that Arnold Reuben, founder of Reuben's Restaurant and Delicatessen, was responsible for the creation named after him. According to stories, one of the leading actresses from Charlie Chaplin came into Reuben's restaurant and said, "…make me a sandwich, make it a combination, I'm so hungry I could eat a brick." In response, Reuben sliced two pieces off of a loaf of rye bread, stacked it with Swiss cheese, thinly sliced corned beef, Swiss cheese, and lots of Reuben's special Russian dressing. Of course, the actress loved it and proclaimed that he should name the sandwich after her. Well, Reuben had a different idea and called it the "Reuben's Special."
Fast forward 100 years, and the "Reuben Special," now referred to simply as a Reuben, is one of the most popular deli sandwiches in the country. The Reuben is consistently ranked in the top 5 sandwiches, even if the meat and cheese combination doesn't fit the kosher requirements of the Jewish delis that the sandwich is made in. But thankfully for the rest of us, that didn't stop anyone from making it and certainly didn't stop people from eating it.
The Reuben has numerous variations. At River City Cafe we offer two different variations. Our traditional Reuben features thinly sliced corned beef and sauerkraut topped with Swiss and 1000 island on grilled marble rye bread. Similar to delis across the country, our Reuben sandwich is extremely popular with our guests. We also chose to go a step further by offering a second variation; because if River City Cafe is good at anything, it is providing a multitude of options. Introducing our Blackened Grouper Reuben. This sandwich features Cajun-spiced fresh grouper topped with sauerkraut, Swiss, and 1000 island on grilled marble rye bread.
The next time you are in the mood for something salty, yet sweet, savory, and tangy, stop by River City Cafe. We have the perfect sandwich for you!
Want to check out what other options we feature on our menu? View our menu on our website.
Curious about what other topics we have written blogs on? Check that out here.