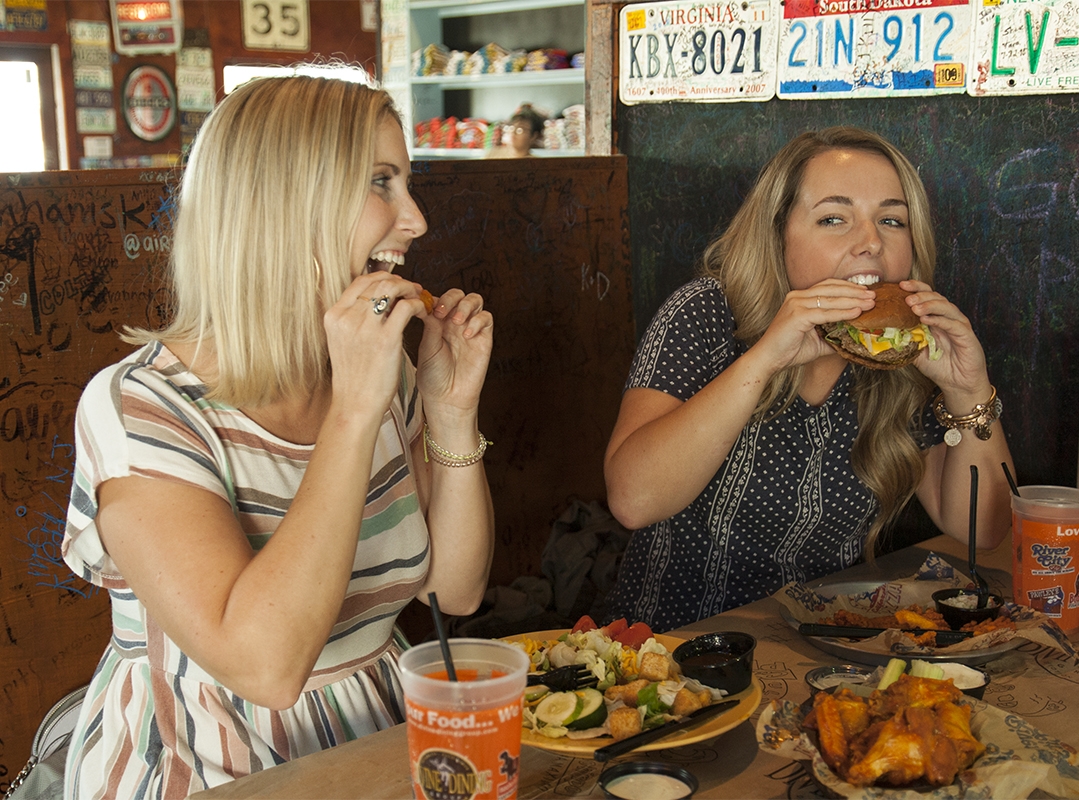 Did you know that there are SEVEN River City Cafés across the Grand Strand? That's right seven eclectic, feel good restaurants all with the same great menu. The Divine Dining Group set out to create not only the best food at the beach but also to create some of the most unique casual dining experiences possible. We can all agree that dining options are not limited in the Myrtle Beach area, but the question we like to ask is: Was that restaurant memorable? When it comes to River City Café, from the burgers to the peanuts, we promise you the answer is YES! Let's take a tour of these great locations.
The first River City Café on our list is located to the north at Barefoot Landing. Barefoot Landing is a unique outdoor shopping center home to many boutiques and shops that share a great view of the Intracoastal Waterway. Barefoot Landing provides an excellent area to roam as you build an appetite. Our recommendation, start your day with a hand tossed, build your own pizza from Ultimate California Pizza for lunch, roam Barefoot for the afternoon and then join us at River City Café on the back deck for dinner to enjoy a great meal and a great view of the boats traveling up and down the waterway. We know our burgers are big so you might need to explore more before calling it a night. However, before you do, we have one more recommended stop. Make sure you stop across the street at Nacho Hippo for some Churros and a Margarita!
Just down the road you will find our next location at the Sands Ocean Club Resort on Shore Drive. The environment may be different, but you will still find amazing burgers and our top-rated fries. While you are here, make sure you take advantage of the great ocean views and relaxing environment. This location will be re-opening at the end of February and is well stocked and prepared to serve our out of town visitors and locals alike.
As we continue our trip down the Grand Strand, our next River City Café stop is on 73rd Ave N in Myrtle Beach. Located right on Ocean Boulevard and in front of the Sand Dunes Resort, this is the perfect location to grab a River Rita or one of our other cool cocktails while sitting in our outdoor bar waiting for your fresh salads, sandwiches or burgers. The best part about this location is how close it is to the beach. When you finish, you can walk right to the beach to play in the ocean or build a cool River City Café inspired sandcastle.
Our next stop brings us into the heart of downtown Myrtle Beach and to our original location. This location is within walking distance of the Myrtle Beach Boardwalk and all the excitement downtown has to offer. Grab a burger and then take a ride on the Myrtle Beach SkyWheel, visit some of the eclectic beach front gift shops like The Gay Dolphin, or just enjoy a stroll on the white sand beaches that stretch 60 miles along the Grand Strand. 
From ocean to waterway, our next River City Café is nestled near the Socastee swing bridge along the Intracoastal Waterway.  Our Socastee River City Café combines waterway views with a causal family-oriented dining experience. More of a neighborhood-style restaurant location, you can always rent jet skis from Island Adventure Watersports for a day of racing around on the waterway after you finish your meal.
On to Surfside Beach. Watch out for the golf carts! Chances are, you will see more of them than cars in this beach-side town. Surrounded by some of the best family-friendly beaches, this location is right on the ocean. You can step right off the beach into the restaurant for lunch or dinner. Enjoy that ocean breeze on our outdoor deck and head right back to the beach.
Finally, to finish off our quest, we will stop at our southernmost location, River City Café Murrells Inlet. This location offers a warm fireplace that fits in with the charm of Murrells inlet and is the perfect place to have dinner before going to Pawleys Raw Bar for a piece of Key Lime Pie. 
Thanks for taking the tour with us. We are certain that wherever you stay along the Grand Strand, you will be close to the locals' favorite burger joint. Bring the family and invite some friends for some great food, great environments, and great memories.