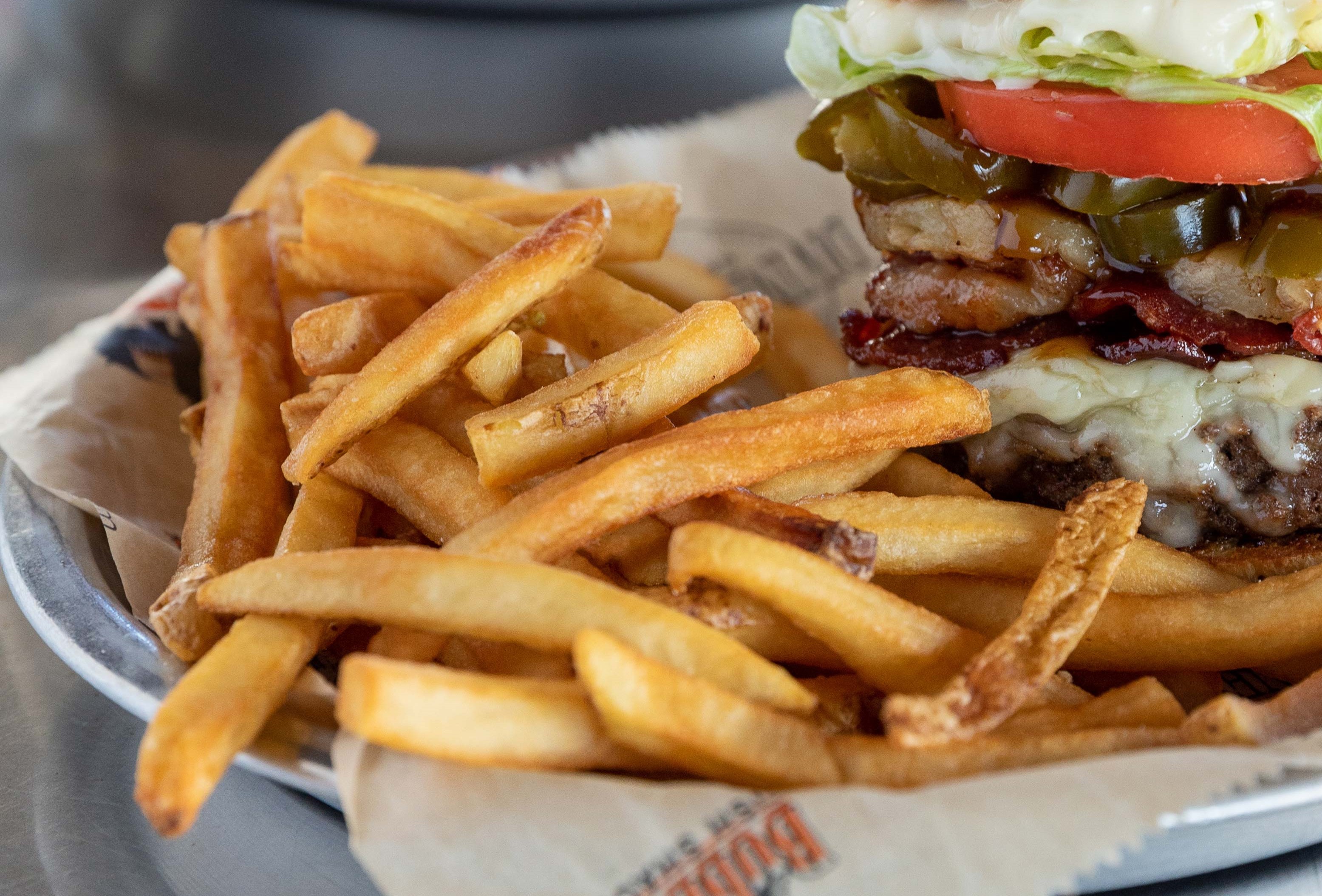 At River City Cafe we put a tremendous amount of effort into showing our guests that we are all about our burgers. However, even though some of our burgers are massive in size, it takes more than an amazing burger to make a meal! Enter River City Cafe fries! No matter how you order them, fries complete the meal. Let's take a look at fries in this month's blog.
French fries, chips, finger chips, papa fritas, or hot chips, regardless of what you call them, have been appearing on menus of diners, pubs, restaurants, and bars for a very long time. When you think of fries, it is assumed that they were created in France. The name "French Fries" says it, right? Well, it may not be that straightforward. Belgium lays a strong claim to the creation of fries as well. It has been an ongoing dispute for more than 200 years. A Belgian journalist claims to have found an old family manuscript recounting deep-fried potato strips before 1680, but there are a lot of holes in the story and the journalist failed to produce the manuscript. It is also hard to fathom poor peasants having the abundance of fat necessary to cook potatoes in this manner. It is easy to understand, given the time, that because the claims lay so close in history, that the information could have been muddled. The 17th century didn't have the instant flow of information we have today. The name "French Fries" actually came from American soldiers in Belgium during World War I. They came across villagers along the River Meuse who traditionally ate fried fish and cooked sliced potatoes the same way. Since the prominent language of southern Belgium is French, they dubbed the tasty treat "French Fries."
It didn't take long after the end of the war for fries to become extremely popular in the United States. American fast-food chains like McDonald's helped to popularize "thin style" fries around the world. They became so popular that by the 1940's they were available in frozen form for private customers everywhere. By 2004, 29% of the United States' potato crop was used to make fries.
The standard way to serve fries has been to cut the potato into long strips, fry them in oil and dust them with salt. But that isn't the only way. At River City Cafe, we do serve our traditional hand-cut style fries seasoned with salt, but we also have some more creative options. Taking a nod from our northern neighbors, our Gravy Fries feature our hand-cut style fries smothered in brown gravy. You can even add fresh sautéed mushrooms to get something extra special.
Another option is the ever-popular Cheese Fries! Again they feature our hand-cut style fries covered in melted shredded cheddar cheese. Want to make them really interesting? Add our homemade Texas chili, bacon, and jalapenos for a real exciting fry experience.
Last, but certainly not least, we go the extra mile and offer sweet potato waffle fries. They taste like a tasty roasted sweet potato. Perfectly crispy and perfectly salted, sweet potato waffle fries are a true delight.
The burgers at River City Cafe may take center stage, but the fries complete the meal. Come to River City Cafe, enjoy your burger, but don't forget about your fries!
Want to read more about our burgers?  Check out this blog post.
Curious about potatoes? Check out this blog.
Want to check out our menu? Check that out here.