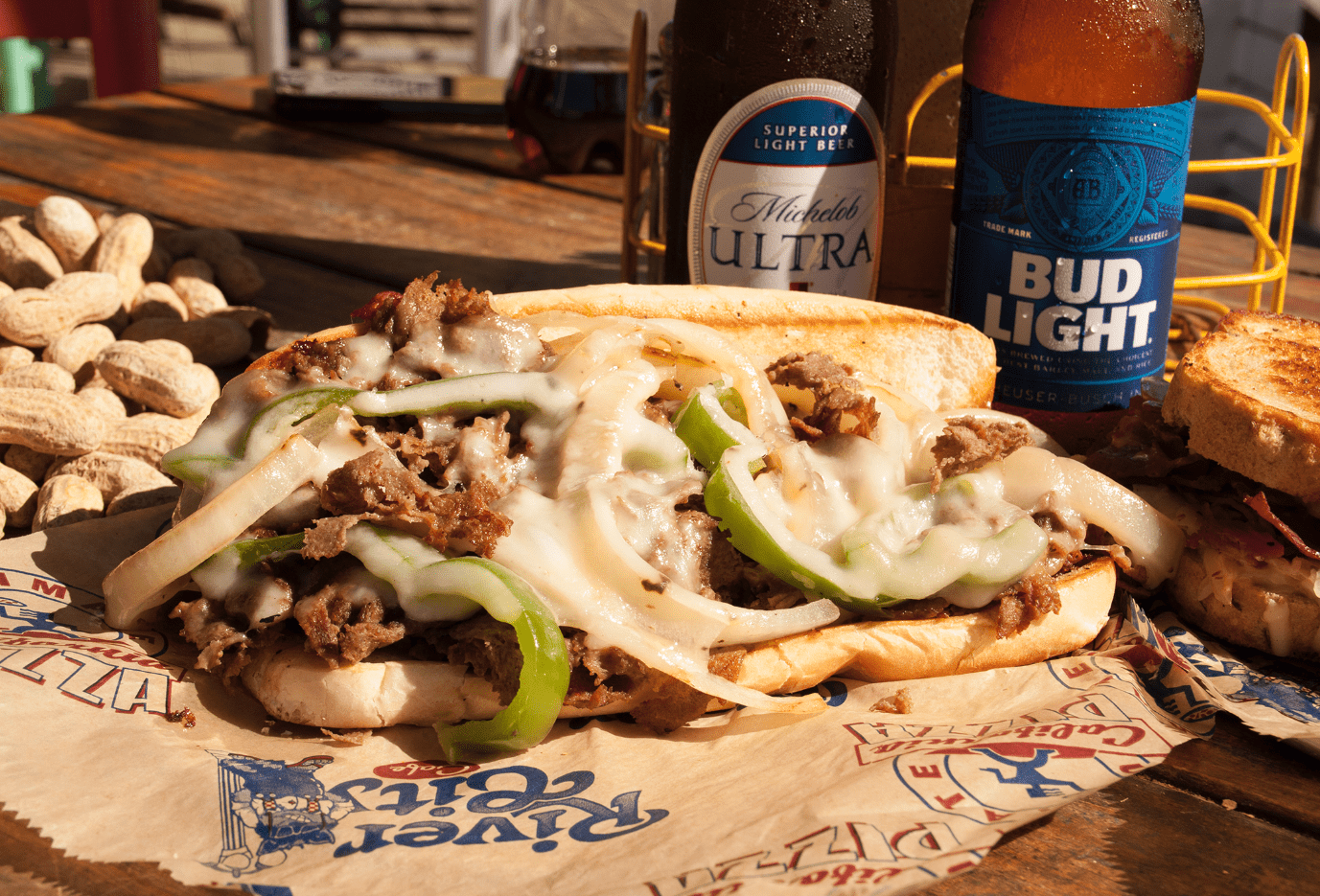 At River City Cafe in Myrtle Beach, we are all about the burger. We offer everything from your typical hamburgers and cheeseburgers – to burgers with Doritos, ones covered in Texas chili, burgers topped with fried shrimp and ones so big you can't fit it all in your mouth at one time! As much as we love grilling a mouth-watering burger, we are also passionate about the other items we offer on our menu as well.
If you're in the mood for something crispy and fried, we have quite a variety of fried appetizers that are sure to satisfy that craving. Our most popular items are our World Famous Onion Rings, Blooming Onion and our Pickle Nickels – which are crispy fried pickles served with a side of ranch. Not a huge vegetable fan, well have you ever tried Fried Zucchinis or Fried Mushrooms? The crispiness of the outside and the cool ranch that you dip them in, create quite the flavor combination. We've also recently added fried banana peppers to our menu, which are not only a tasty appetizer, but add a bit of zest to any burger.  If you love a hot basket of fries we serve Sweet Potato Fries as well as House Fries that can be topped with cheese, chili, bacon or jalapenos or with gravy. All of these appetizers are perfect for passing around the table, if you can manage to share.
After selecting a few appetizers, if you're trying to order something on the lighter side – we have a few soups and salad options to select from. But don't let the term lighter fare fool you. Our salads are large and loaded with toppings! We don't skimp on portions at River City Cafe. We offer your typical House Salad, Chef Salad, Taco Salad and of course our own interpretation of a salad – the RCC Salad which can come topped with Grilled Mahi Mahi or Grilled Chicken Breast. We also make a delicious Homemade Texas Chili or New England Clam Chowder if you're searching for a menu item to warm you up.
If you're not craving a burger or are in the mood to try something new, give our River City Cafe Platters a try. We have everything from Chicken Fingers and Fried Shrimp to Jumbo Hotdogs and Fried Catfish. Feeling adventurous? Try the Blackened Grouper Reuben. This isn't your typical fish sandwich – it's cajun spiced fresh grouper topped with sauerkraut, melted swiss and 1000 Island dressing. Not feeling anything fried? We also serve up Mahi on a sandwich that can be prepared grilled or cajun spiced.
River City Cafe has been around for quite some time, and have developed a list on the menu that consists of local Myrtle Beach favorites. This section is entitled Beach Favorites and contains menu items like Grilled Ham & Cheese, Philly Chicken, Philly Steak and the classic BBQ Sandwich. We even have something called the Darlington 500, which is a half pound slab of fried bologna topped with grilled onions and American cheese served on grilled Texas toast.
When you're known to have the "Best of the Beach" burgers, it may be hard to venture away from the classics. But we suggest you give some of the other items on our menu a try, and who knows, you may end up discovering with a new sandwich or salad you love more than your go-to burger!