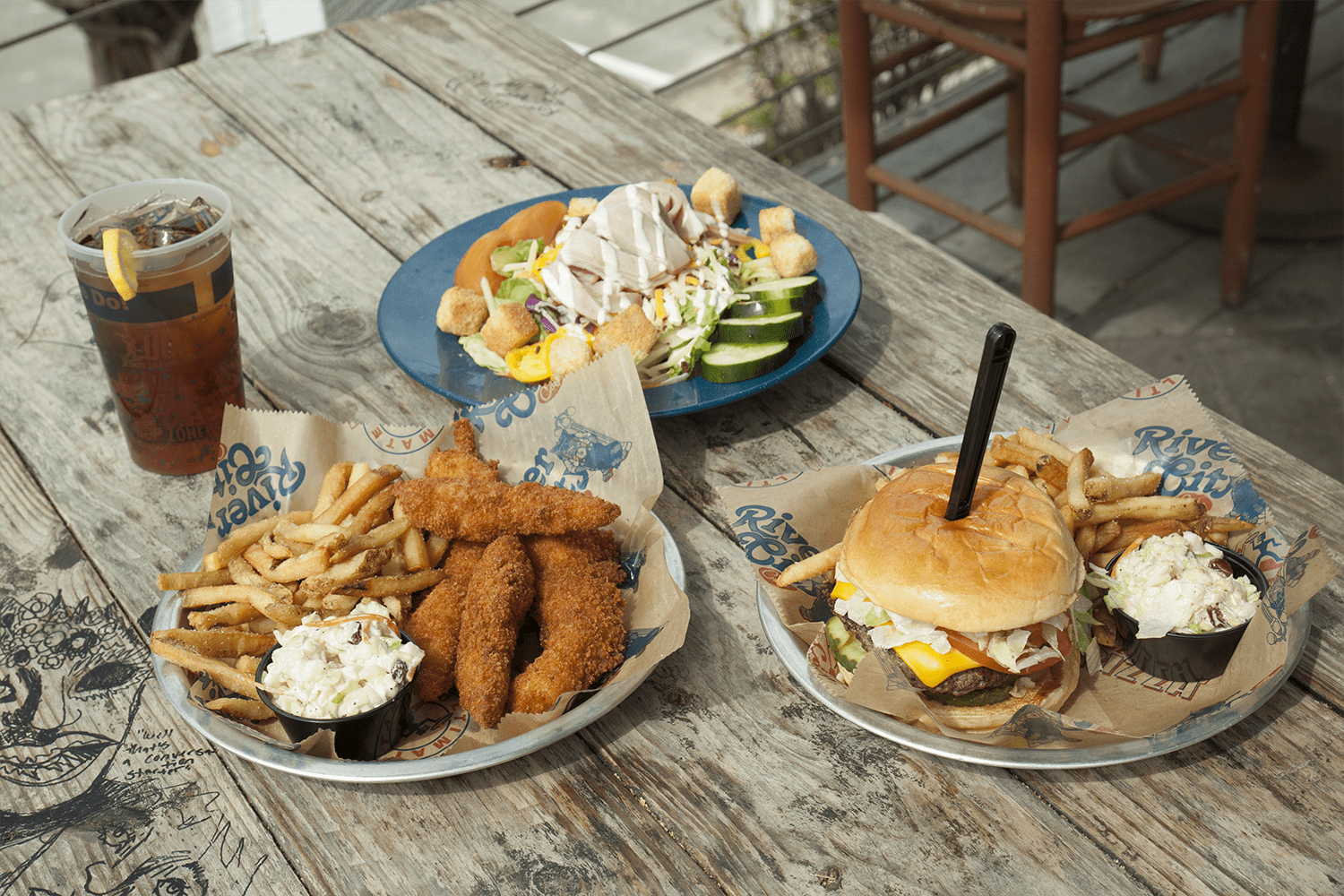 Here at River City Cafe in Myrtle Beach, we've got something for everyone! Whether you're a picky eater or you've never met a food you haven't liked, we've got the perfect menu for you! And our 'Best of the Beach Burgers' keep people coming back time and time again and again. Our family friendly atmosphere has helped create a River City "family" amongst tourists and locals alike. People enjoy our fun and unique dining atmosphere, where you can relax and throw your cares … or should we say peanuts … away.
We have all sorts of appetizers to kick off your meal at River City Cafe. An appetizer helps set the mood for your entire dinner and we've got plenty of tasty treats to choose from. Satisfy your craving for fried food with our colossal onion rings, fried pickles, or fried banana peppers. Our hand battered onion rings are big enough to count as a meal and are served alongside our tasty petal sauce. Munch on a plate of crispy fried pickles or mix things up with our fried banana peppers. With a little more zest to them than fried pickles, they're a great way to spice up any meal.
While you're here, you have to try one of our 'Best of the Beach' Burgers! Our burgers are the defining point of our menu and are fan favorites. You can keep things simple with our House Cheeseburger (made with the cheese of your choice, lettuce, tomato, onion, pickles, mustard, and mayo) or get crazy with our Cheetos Burger. Our unique and crunchy Cheetos Burger is made with fresh, melted cheese topped with Cheetos and mayo.
If you're one that craves a more classic burger, give our Fork and Knife Burger a try. This tasty patty is smothered in grilled mushrooms and onions, topped with gravy, and served on Texas Toast. If you passed on the fried banana peppers, it's not too late to give your meal a little extra kick. Our Banana Pepper Burger is covered in fresh banana peppers along with lettuce, tomato, and chipotle mayo.
Not feeling a burger? Our menu is filled with other tasty options including salads and sandwiches. Our River City Platters have options like Chicken Fingers, Fried Shrimp, Fried Catfish, Grouper Sandwich and even Grouper Fingers. If you're feeling stuck on what to order, and have no clue what you want, give one of our Beach Favorites a try. Our Patty Melt is made with a juicy beef patty topped with grilled onions and smothered in Swiss cheese between two slices of rye bread. Our Philly Steak takes the sandwich game to the next level. Juicy grilled steak that's topped with fresh provolone, grilled onions, and fire roasted red peppers and piled on a toasted hoagie roll.
If our 'Best of the Beach' Burgers aren't enough to lure you in, the atmosphere sure will! River City Cafe is the perfect place for beach lovers and those who are looking for a change of scenery. We go above and beyond the usual dining atmosphere and give our guests a unique, relaxed experience. Our walls are covered in license plates from all over the country. With our colorful lights and relaxed set-up, our restaurant has the perfect beach vibe. Peanuts cover the floor as guests snack away while they wait for their juicy 'Best of the Beach Burger'. We have 7 locations around Myrtle Beach, with some locations situated waterfront or oceanfront – adding a view to that delicious burger. At River City Cafe, we know how to combine food and fun and have perfected casual dining at its best!
Forget about having to get over-dressed for a meal and waiting hours just to get seated. We know you're hungry and we won't make you wait any longer than you need to get your hands on one of our world famous burgers.