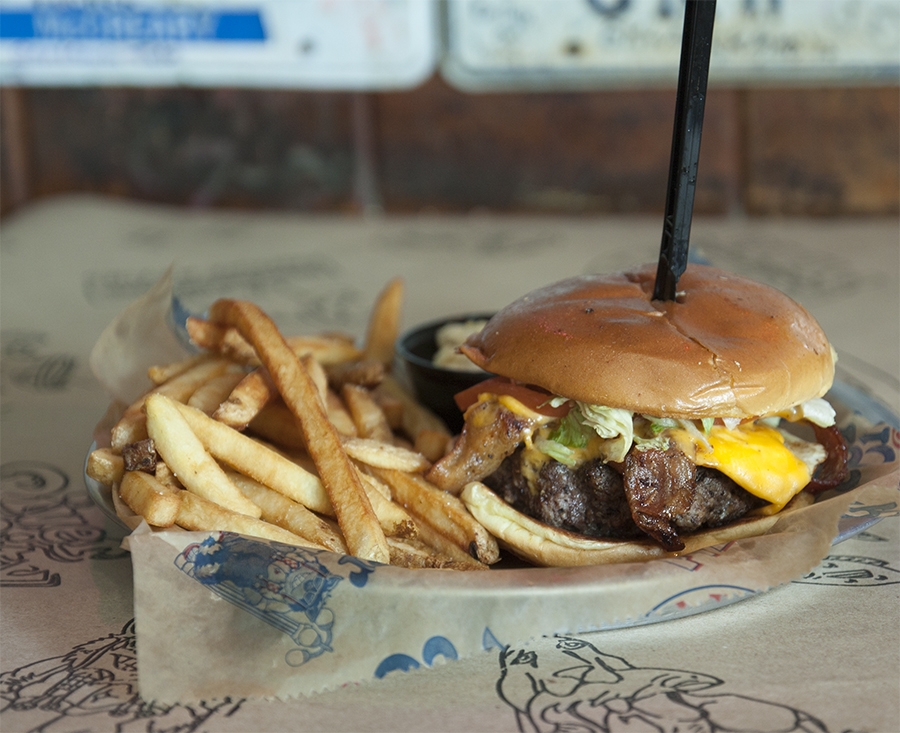 Every spring, the streets of Myrtle Beach are flooded with motorcycles as it becomes the temporary home to thousands of bikers. When you're ready to park your bike for a bit and grab a bite to eat, make sure to stop by and see us at River City Cafe in Myrtle Beach for some of our 'Best of the Beach' Burgers!
No matter where you're burning rubber around the streets of Myrtle Beach – from Surfside to Murrells Inlet to North Myrtle Beach – you'll never have to worry about being too far from a River City location. We have seven different locations where you can park your bike and enjoy a burger during your pit stop.
Our burgers are the cornerstone of our mouth-watering menu and are loved by locals and tourists alike for a reason. We get creative with our 'Best of the Beach' burgers and no topping is off limits. Didn't make it out of bed in time to enjoy a big breakfast? Give our Continental Burger a try. This juicy burger is topped with a fried egg, sizzling hickory smoked bacon, lettuce, tomato, and smothered in American cheese and mayo. This versatile burger is the perfect way to satisfy your hunger at any time of the day!
Another delicious item if you're craving breakfast is our Chicken N' Waffles special. To create this masterpiece, we hand bread a juicy piece of chicken breast and serve it with plain, hot or mild sauce in between two toasted Belgian waffles. This mouthwatering sandwich is then drizzled with maple syrup and finished with a side of fries and coleslaw.
In Myrtle Beach, there are always plenty of events going on during and around the bike weeks. Catch a concert at the House of Blues or head up to Little River for the World Famous Blue Crab Festival. If you're searching for live music and fun on the waterfront, stop by the MarshWalk in Murrells Inlet. And there's plenty of shopping to be done at The Market Common or Barefoot Landing.
Once you've ridden around and worked up an appetite, stop by and take a pit stop where you can fuel up on our 'Best of the Beach' Burgers!