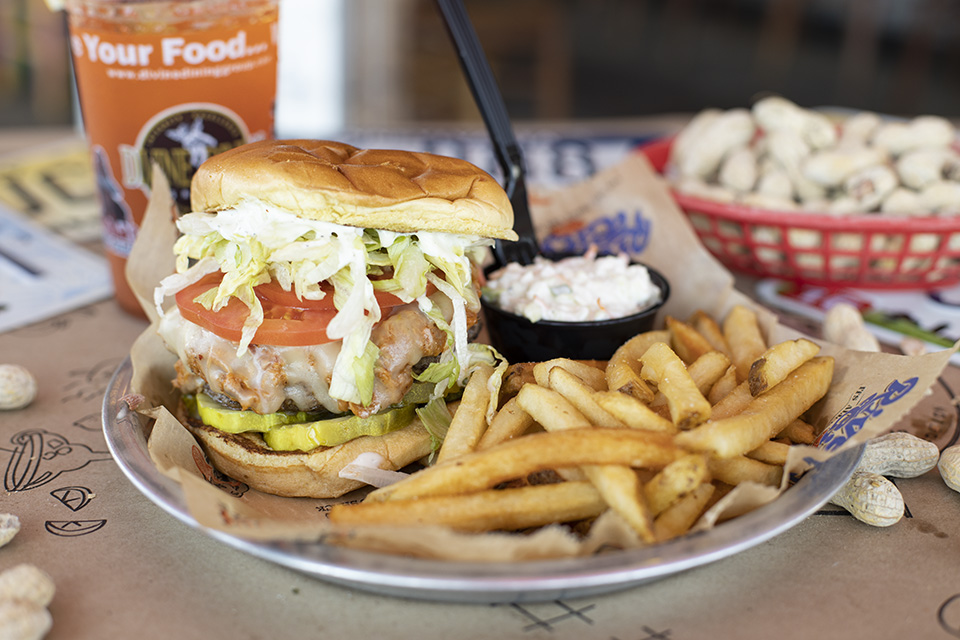 There is no denying it now, we are squarely rooted in the middle of the holiday season. We know this can be a very challenging time of year for a lot of people. The general stress of the holidays can be extremely taxing but the extra hustle and bustle the season tends to bring with it by adding additional duties to an already full schedule can be overwhelming. River City Cafe has a few suggestions on how to reduce your stress levels. Even if it is just helping you decide what's for dinner each day.
Gift Cards

We know you have gifts to buy and the stress of figuring out what to buy for who just isn't worth it. Gift Cards are the answer. No one ever complains about the opportunity to choose their own presents, and who would be silly enough to turn down food? Food is always a great gift! The best part? If you make your purchase of $50 of gift cards in store, we will give you an additional $10 gift card for FREE! The second best part? Our gift cards are good at any Divine Dining Location! That is 16 different locations! River City Café, Ultimate California Pizza, UCP Game Zone, Nacho Hippo, Bubba's Fish Shack, and Pawley's Raw Bar. It's the deal of the season!
Fried Pickles

If you haven't had them already, you need to come back just for them.

RCC Salad

We get it, between Thanksgiving, Christmas, New Year's, family and corporate parties, and well just any other day this season, you might just want something a little lighter. This is one of 3 fresh salads we offer. Its ok to order a salad at a burger place.

Got Nuts?

Of course I mean the peanuts, but what about our Got Nuts? apparel? Our shirts are fun and tasteful and a perfect gift for everyone.

ONION RINGS

"They are as big as my head!" Statement made by a guest sitting next to me at dinner on Friday night.

Shrimp Po Boy

Is a sub…. Low country style. Fresh popcorn shrimp hand breaded, fried and piled high on a hoagie and bed of lettuce and tomato. The only question we need to ask for this option is: Tartar or Cocktail Sauce?

Turkey Burger

If you have ever wanted to go crazy building your own burger but still wanted it to feel light, this is your chance. Our Turkey Burgers feature fresh ground turkey cooked River City Café style. This is where you get to take over. Cajun-spiced? Yep, we can do that. Choose from America, cheddar, Swiss, pepper jack, provolone or a creamy bleu cheese spread. Lettuce, tomato, onion, pickles mustard and/or mayo. Sure why not. But why stop there. That is the basic stuff and we never stop at basic. We have a couple of other toppings you can choose from: hickory smoked bacon, sautéed mushrooms, onion straws, Texas chili, grilled onions, fried egg, guacamole, jalapenos, green peppers, banana peppers? How about you let us make you our Nacho Crunch Turkey Burger? Don't worry we will get you another sweet tea.

Shoestring Burger

A unique blend of flavors our Shoestring Burger features our traditional all beef patty, but don't be afraid to ask for us to substitute for or turkey burger or our veggie burger. We'd be happy to make it the way you want it. Once you decided what patty you prefer, we will top it with lettuce, tomato, fried onion strings and our spicy petal sauce. This burger is sure to please.

Grilled Ham and Cheese

Ok so we do some things that are classics. You can't go wrong with a Grilled Ham and Cheese sandwich. To plain for you? Let us put a fried egg and hickory smoked bacon on it for you.

Darlington 500

A half-pound slab of deep friend bologna. Yes, you read that right a HALF-POUND. Finished out with grilled onions, American cheese and wrapped in two pieces of grilled Texas toast. This is a sandwich worthy of the name.

Kitchen Sink Burger

If you have never seen this burger in person, it is impossible to help you understand how big it really is. Let's just put it this way, this burger makes everything else around it seem small. 

OMG Burger

When a burger creation makes you say "OH MY GOD", you just name it that! We give you the O.M.G. Burger. If you haven't had one yet, you should take the leap.
This holiday season we hope that you can relax and avoid the stress and if we can make dinner easier just give us a call. From all of us, to all of yours. Happy Holidays!