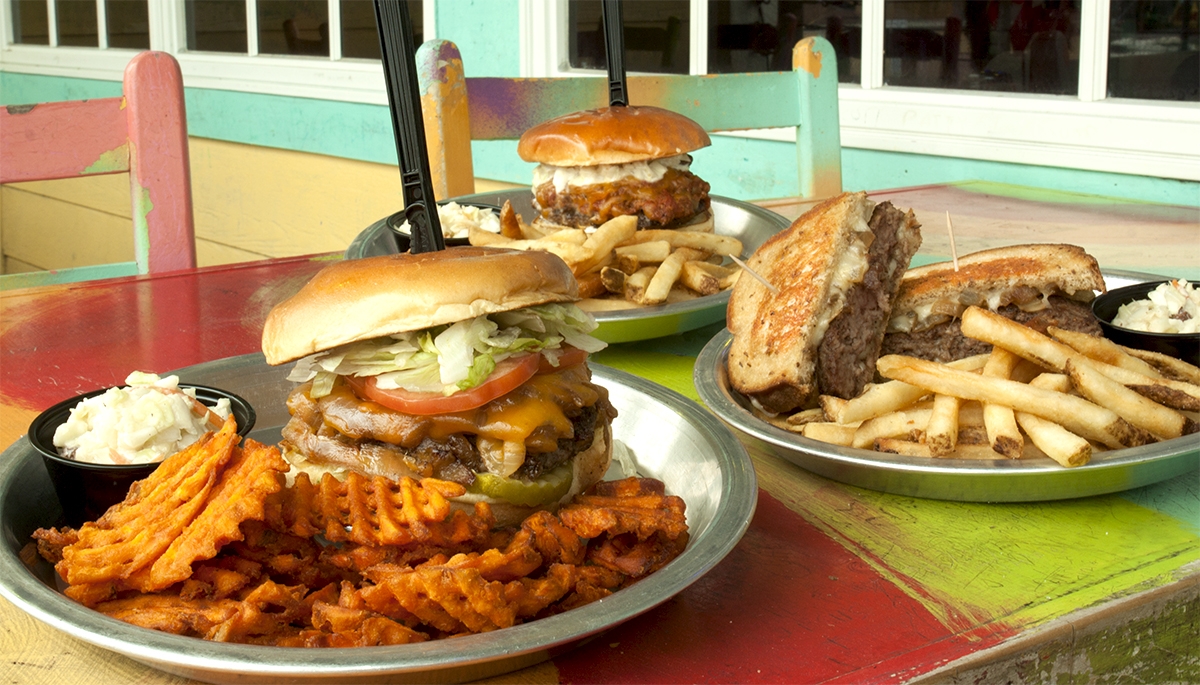 It has been a few years since we put out some information about who we are and what we do. Since it is time for a lot of folks to start planning their vacations, and you will be stopping by for dinner at least once, we wanted to put out some information to help make your visit to make River City Café a stop to remember.
River City Café is a local's favorite with several locations along the Grand Strand.  Well known for the handcrafted burgers and hand cut style French fries, River City Café has consistently been named
Best of the Beach by our locals. River City Café provides a fun family friendly environment that is, in a word, eclectic.
What type of dining experience can you expect?
Laid back. Relaxed. Fast casual. Fun. Family oriented. Beach shack. Those are just a few words our guests have used to describe their experiences with us. You can expect peanut shells to be scattered across the floor, license plates on the walls and smiles all around. We want provide a location that any family can enjoy and want to share with your friends and on your social media accounts.

Do you take reservations?
We do not. We pride ourselves on being a first come, first serve restaurant. However, if you have a large party or are planning to bring a large party, give us a call ahead of time so we can work to accommodate you the best we can. While calling ahead does not guarantee seating upon arrival, it does help us be more prepared to provide you with the experience you deserve.

Animal friendly restaurant

?
Even though we proudly host a raccoon for our mascot, we do not allow animals on our premises. There are some very wordy restrictions and regulations put forth by DHEC that we must follow in order to allow pets that we simply cannot comply with at this time. Service animals are permitted and always welcome.

What type of dining areas do we provide? Private dining available?
Rustic, family oriented. Our guests are our family so we want to ensure you are comfortable. Tables, booths, and patio/porch style dining. All different based on the location. Some of our locations even have an ocean view! Our location on 73 Ave even offers an outdoor tiki bar. All of our locations are in close proximity to local hot spots.  Our Surfside Beach location does have a 3rd floor that during certain times of the year can be used to host parties, please call us to arrange the details ahead of time.

What our hours of operation?
We open every day at 11:00 am and close at 10:00pm.

What type of food can you expect?
Our menu is loaded with more than 20 fresh, never frozen burgers made of our secret proprietary beef blend and seasoned to perfection along with other offerings. We also have chicken breast sandwiches, turkey burgers, Philly's, Reuben's and many more options!

Are there kid's menu options?
Absolutely! We have kids burgers, chicken nuggets, hot dogs, corn dogs, grilled cheese and even mac & cheese.

Gluten Free Options? Allergy Accommodations? Vegan or Vegetarian Options?
All of our food is prepared in a common kitchen, but we do offer several options for those looking to follow a gluten sensitive lifestyle. Our kitchen creativity didn't stop there. We have various vegetarian options like our awesome salads and a vegan veggie burger as well as some meat free appetizers. However, our breading does contain egg. As for allergies. It is important to note that River City Café does utilize ingredients that include milk, eggs, soy, wheat, flour and peanuts. If you have concerns, you can reach out to us via our social pages before your visit to see how we can best accommodate you. We also offer complimentary peanuts to our guests. The shells end up all over. If you have a peanut allergy, we might not be the best choice for you.

Do we offer carry out or delivery options?
We can make EVERYTHING To-Go! We would be happy to prepare your meal for you to take home. Just give us a call to place your order and then come pick it up!

Are we social? How can you follow us?
You bet we are! You can find us on Facebook @RiverCityCafe. Find us on Instagram @rivercitycafesc. You can even interact with us on SnapChat! Find us at @rivercitycafe. We would also love for you to leave us a review on Google, Yelp! or Trip Advisor. We want to get as much feedback as we can from our guests. It helps us work towards sharing our passion to provide the perfect dining experience to every guest every day.

Do we serve alcohol or have a bar?
We do! All of our locations offer a selection of liquor drinks, beer and wine. We have various bar seating depending on location and would be happy to serve you your meal at the bar if that is what you prefer.

Do we offer specials or a happy hour?
At this time, we are not offering specials or happy hour. 

Live music? Trivia?
Our burgers make us want to sing…but you might be happier that we don't. We do not host live music or trivia, however if you visit our Shore Drive location you can listen to the music from Ocean Annie's during the summer season. It is just a few short steps away from the restaurant.

Merchandise for sale?
Yes, yes and more yes! Hats, t-shirts and sweatshirts. They make much better gifts than a messy burger! Don't forget the Gift Cards! You can order them online before you visit by going to https://divinedininggroup.cardfoundry.com/giftcards.php. Use them on food, beverage and/or merchandise!

Where can you find us?
We have 7 different locations along the grand strand! You can find us at Barefoot Landing, Shore Drive at the Sands Ocean Club, on the corner of 73rd Ave N and Ocean Drive, on 21st Ave N between Kings Hwy and Ocean Blvd, right next door to the swing bridge in Socastee, right on the ocean front in Surfside Beach, and also just a short drive south of the Murrells Inlet Marshwalk.