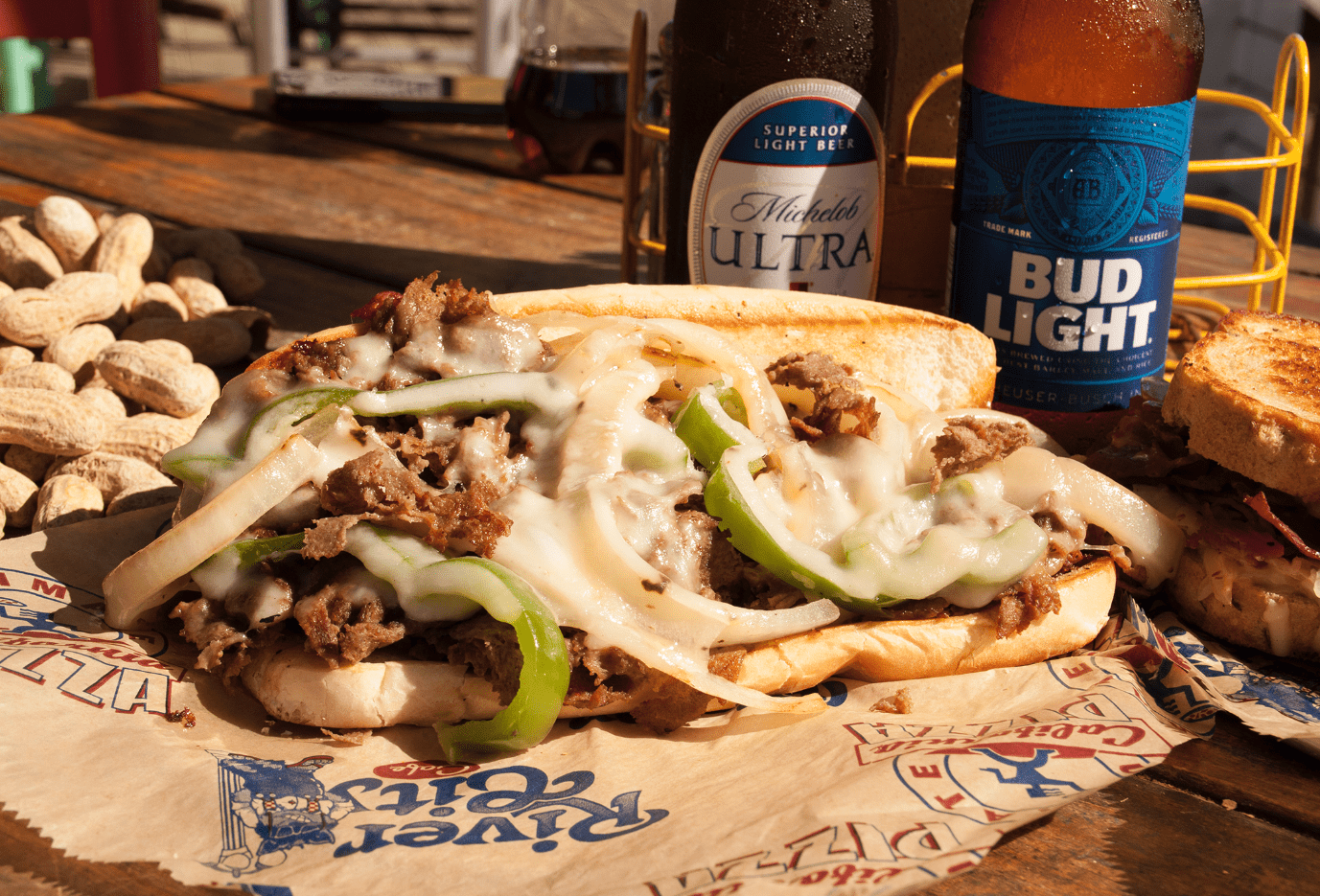 It isn't a hamburger, it isn't a sandwich, no it is so much more. It's gooey, it's meaty, it's melty. It's chewy, but not tough. Flavorful and complex the Cheesesteak is a perfect item for River City Cafe. What makes them great? Where did they come from? Who invented them? When? How do you make one at home? In this month's blog, we will answer all of these questions!
The Cheesesteak was developed in the early 20th century. Also known as the Philly Cheesesteak, this sandwich is typically made from thinly sliced pieces of beefsteak and melted cheese and piled onto a long hoagie roll. The meat used for this sandwich is typically thinly sliced rib-eye or top round, however other cuts of beef can be. The meat is cooked on a lightly oiled griddle at medium temperature. Because the slices are so thin, the steak browns quickly, and then it gets scrambled into smaller pieces.
That's where things get different depending on your tastes. The most common cheeses are American, Cheez Whiz, and provolone, but depending on the restaurant you are only limited by your imagination. It is also common to see sauteed onions, green peppers, mushrooms, ketchup, hot sauce, salt, black pepper, and many other additions added to this versatile sandwich.
After all, items are cooked and melted together the combination of meat, cheese, and other flavorful items are scooped onto a long hoagie roll, cut in half, and served to a smiling guest. If you are from the Philly area, you might argue that the only roll a cheesesteak should be put on is the famous Amorosa rolls, but there are plenty of appropriate substitutes.
We can thank Pat and Harry Olivieri for the invention of the cheesesteak in the early 1930s. There is always a large debate behind the creation of famous sandwiches, but Pat and Harry owned a hot dog stand, and one day they just decided to make a new sandwich. While Pat was eating the sandwich, a cab driver stopped by and thought it looked delicious. After eating it, the cab driver said they should quit selling hot dogs and only focus on the new sandwich. The sandwich, originally sold with no cheese, changed when one of their managers added provolone. Since then, cheesesteaks have become a staple at food carts and restaurants all around the United States.
Now that we have talked about it and are craving a cheesesteak, let's go through how to make one. First, you need to gather your ingredients. I recommend a thinly sliced rib-eye. Not the stuff you find in a box, but fresh from the meat counter. Next is your cheese option. Don't sleep on provolone. It has a great smoky flavor and melts well, but still holds everything together. Sliced White American is a great secondary option. Toppings are super important as well. Onions, peppers, mushrooms? I go for all three. I like to caramelize my onions and peppers and sauté my mushrooms in some butter and garlic before I cook the meat. But you aren't limited to that. You could make a sauce out of mayo and some horseradish if you want to get a little crazy. The final ingredient is your roll. A 6 or 7-inch hoagie roll is a perfect choice. We recommend fresh from the bakery, but there are so many options available to you, just pick something that you like but something strong enough to hold all the items you are about to put into it.
Now to cook. As I said, I prefer to cook my onions, peppers, and mushrooms before I cook the meat. A little butter and garlic in a hot skillet and let them all caramelize and absorb the flavors from one another. After my vegetables are done cooking I reduce the heat of the skillet to medium heat and add my thinly sliced rib-eye with just a little olive oil. It doesn't take long to brown so I constantly move the meat around and in the process, it gets chopped up into smaller pieces. Once the meat is browned through, I put the vegetables back into the skillet and then layer provolone cheese over top. I like to put a lid on my skillet at this point because it helps the cheese melt a little quicker. While the cheese is melting, I carefully slice my roll open and make sure I leave just enough connected to ensure everything stays together. Once the cheese is elated to my satisfaction, I use a large spatula, to scoop everything onto my roll. Even when using a 6-inch roll, I like to cut my cheesesteak in half. It makes eating it a little more manageable.
Now if all of that seems like too much work for you, there is a simple solution. Come on over to River City Cafe. We make a great cheesesteak. We use a shaved rib-eye steak and top it with provolone cheese, grilled onions, and green peppers and serve it on a toasted hoagie roll. Do you want to add more? We can always add more, just ask your server. Want it with chicken instead of steak? Try our Philly Chicken instead! All the same great flavors with but with chicken!
Come on down to River City Cafe. We look forward to serving you!