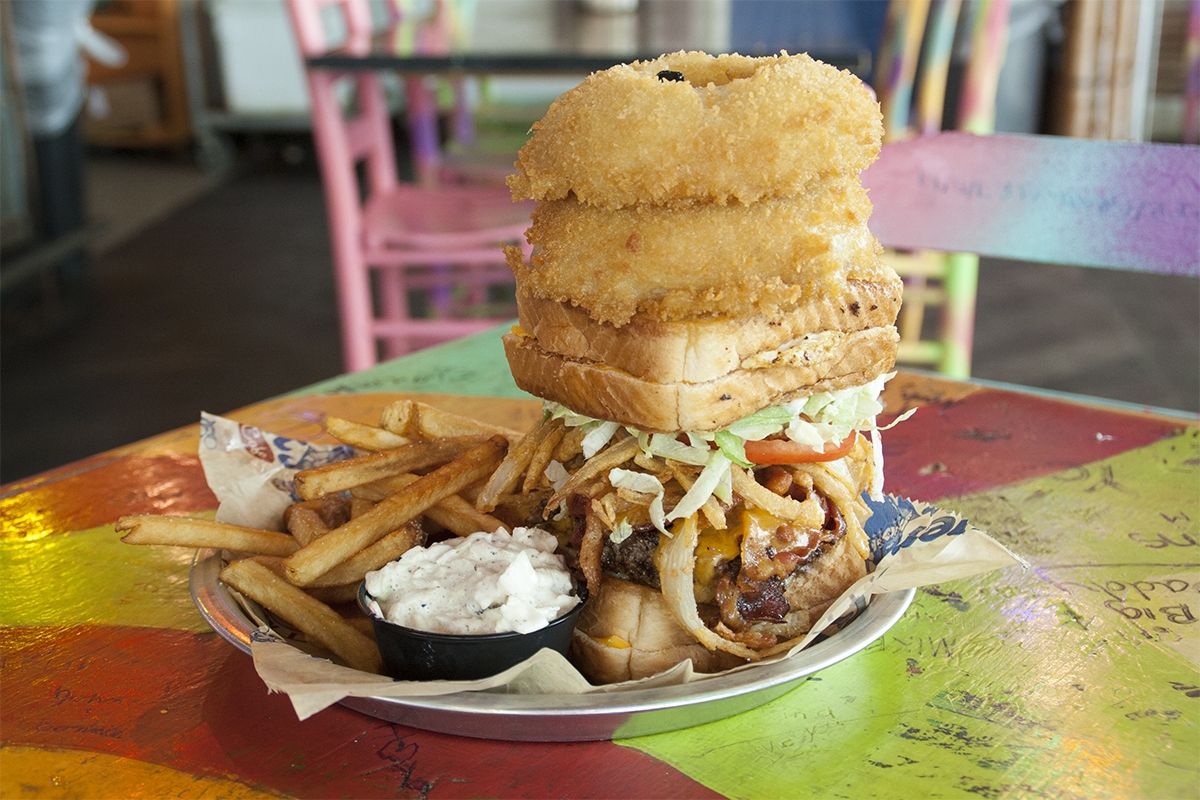 When you think of River City Cafe, what do you picture? Mouth-watering, award winning burgers? Colossal onion rings? Baskets of peanuts? License plates on the wall? If you said any of these, you have an idea of what makes up the River City Cafe brand. Our company has been in business over 32 years and is all about innovation, having fun, and providing quality food to all of our guests. Our customers consist of locals that feel like family and visitors that have been dining with us for so long, they've become like family. From the license plates and vintage decor to the peanuts on the floor, we offer a relaxed, family friendly atmosphere that makes everyone feel right at home. In fact our complimentary nuts are our calling card – just as much so as being able to throw them on the floor.
With seven locations around Myrtle Beach, we are able to provide the same great menu and award winning burgers – but with different dining experiences. We have restaurants in close proximity to the ocean, the Intracoastal Waterway, and the Murrells Inlet MarshWalk. River City offers outdoor dining options where you can feel the fresh ocean breeze while you enjoy your meal. During the off season, the River City in Surfside has a "Room for Hire" in the upstairs portion that is the perfect spot for oceanfront receptions, parties, or whatever reason you have to celebrate. There is even a full bar accommodation.
At River City, we're passionate about our food and only use the freshest ingredients. We use fresh produce, white meat chicken breast, and never frozen meat. Our proprietary burger recipe is the perfect blend of spices and quality ground sirloin and ground chuck. Our bun is also a proprietary recipe and perfectly toasted in butter before it is served atop all of our burgers. We have menu staples that include vegetables at their peak ripeness including  our colossal hand battered onion rings, and fresh fried items including mushrooms, zucchini, pickle nickels, and banana peppers. We also offer burgers for different tastes and lifestyles such as the veggie burger, turkey burger and chicken breast sandwiches.
Where we really get to be creative at River City is with our burgers. We love to come up with exciting new recipes and innovative ways to use classic ingredients. Some of our outrageous burgers we offer include a fried mac'n cheese burger, nacho crunch burger, a chicken n' waffle sandwich special and even a surf n turf burger with fried popcorn shrimp on top. Our most talked about burgers might be our infamous gigantic 'OMG' or 'Kitchen Sink' burgers. Even a bun can't handle the 'OMG' burger, which is two patties topped with hickory smoked bacon, swiss and cheddar, mayo, lettuce, tomato, fried onion string, and stuffed between two fried egg and cheese sandwiches – and two giant onion rings!
But River City Cafe isn't just about the burger. We are very involved in the Myrtle Beach community. We are active Booster Club sponsors of area high schools and give student excellence awards to various local schools yearly that reward students with a free kid's meal for good grades, attendance and other school accolades. River City Cafe believes in giving back to local charities and has been a supporter of Caring in Our Lifetime and the St Andrews Catholic School by participating in their annual Taste of the Town event.
Our hard work and dedication to providing top quality food hasn't gone unnoticed. We've been honored to have won "Best of the Beach" Burgers for 18+ years, been named "Best Lunch Spot" by Grand Strand Magazine, and awarded "Best Burger" by South Strand News. We've even got national recognition when USA Today called us "one of the best places to feed the kids". What an honor!
Come by any of our seven Myrtle Beach locations and get a taste for yourself of the unique dining experience River City Cafe has to offer!