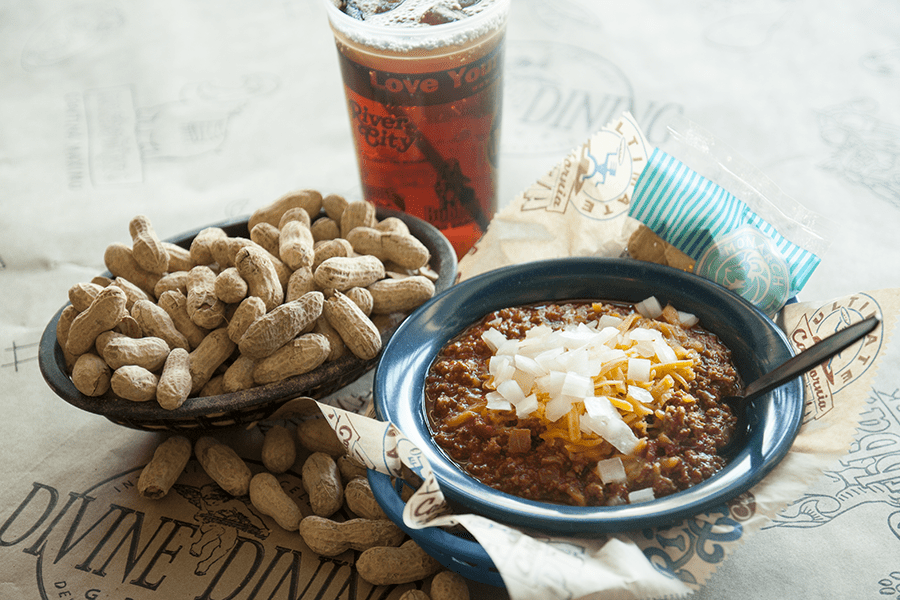 River City Cafe in Myrtle Beach is known for our 'Best of the Beach' burgers, but during the winter months, sometimes a juicy burger just doesn't quite cut it. Although Myrtle Beach experiences year round mild weather, there are still those random days where it gets quite cold. On those days, you need a nice cup of soup or a big bowl of chili to warm up.When you're craving something hot and hearty to warm you on the inside, we recommend ordering a bowl of our Homemade Texas Chili.
We start our chili by cooking the ground meat with fresh chopped onions. The ground meat is then prepared on our grill top, where it is loaded up with spices to create a full flavored meat base. We then add red pepper, white pepper, and pickled jalapenos together and let them slowly simmer for 3 hours so the flavors blend together. This medium hot flavor that is created from these peppers is what gives our "Texas" style chili its name. You'll find a mild heat, lots of flavor and some onions, but one thing you won't find in our homemade chili, is beans.
Once we're done preparing our chili, we scoop a hearty portion of it into our bowls and top it with fresh diced onions and a handful of shredded cheddar cheese. It's served with a side of saltine oyster crackers, which add body to the chili. While the medium heat won't set your mouth on fire, we recommend ordering a sweet iced tea or refreshing cocktail to pair with it.
So for those random chilly days, stop by any of our seven locations in Myrtle Beach and warm up with a bowl of our homemade hearty "Texas" style chili!