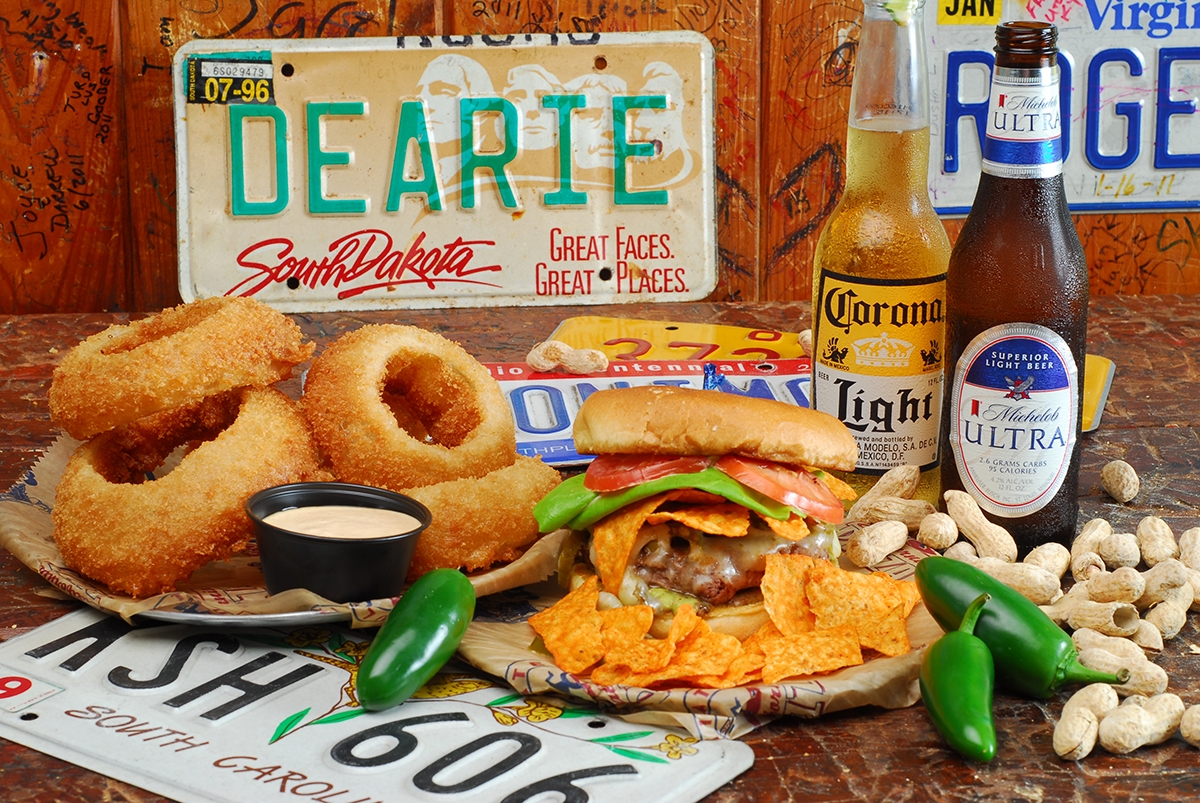 At River City Cafe in Myrtle Beach we are known for a few things – 'Best of the Beach' burgers, creating a fun dining atmosphere, and our eclectic decor. While you're digging into those peanuts and juicy burgers – you may notice a few (thousand) license plates hanging on our walls. We have so many – we've even resorted to hanging them from the ceiling! But have you ever wondered when this quirky tradition started and what was the first license we ever acquired?
To get to that question we'll give you a taste of the River City history. River City Cafe started in 1990 and the flagship location is 21st Ave North in Myrtle Beach. There was a bear skin rug there that used to hold the menu and has since taken up residence at the 73rd Avenue location. The 21st Avenue River City started with just 32 seats and was a counter service burger joint where you had to place your order at the bar. From those humble beginnings, we expanded our kitchen and built a deck out front.
The license plate collection started with a man named Howard who owned Stroh's Distribution Beer Service. He was a loyal customer who one day brought us a Stroh's tag. We hung it on the wall and then our COO Flash gave us a South Carolina tag, which we felt appropriate to hang paying homage to the state where we operate. Nailing those two plates on the wall struck up an idea and thus our passion for collecting plates began. Before the license tags adorned our walls, our walls were covered with photos and writing. The license plates just suited the River City brand and we've been collecting them ever since.
As far as the oldest plate on our wall would come from Maine and dates back to 1918. A fun fact about the year 1918 is this was also the first year that the United States required license plates from every state. The furthest license plate we have is from Guam.
Out of all the license plates hanging on the ceiling and the walls, keep an eye out for the one that has the word "Stolen" on it. This license plate gets moved around all seven River City Cafe locations. If you find it, tell your server and you win a River City T-shirt! 
From vanity plates with witty phrases to license tags from far away states, we love collecting all sorts license plates. It's the perfect tangible symbol that represents our family atmosphere that is created from both locals and tourists alike. Not only is it a sign of our appreciation to our loyal customers from all over, but It's like everyone gets to leave their mark on a restaurant they love. So next time you come for a 'Best of the Beach' burger keep on the lookout for the Stolen tag. And just in case you're wondering, yes we do regularly dust and clean all of those plates!