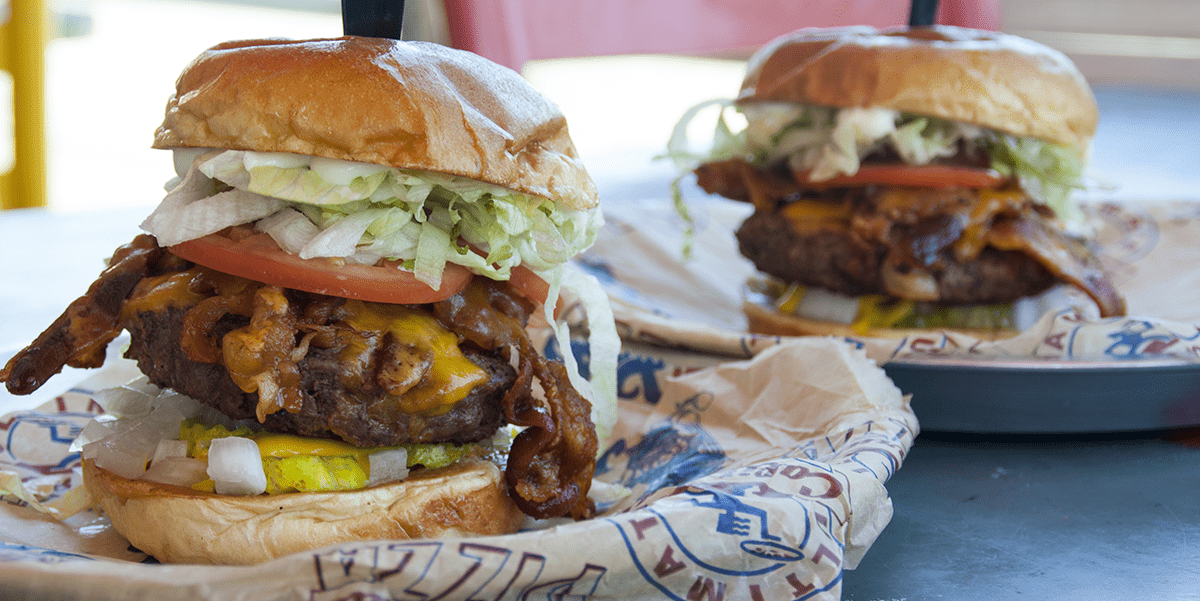 When it comes to restaurants in Myrtle Beach, there definitely isn't a shortage to choose from. But when it comes to picking a local spot that's known for handcrafted burgers, a relaxed vibe in a family friendly atmosphere – River City Cafe is the place to go!
Award-winning Burgers
Our juicy, award-winning burgers are piled high with unique toppings that vary from onion rings, and chili to gravy and even peanut butter or even a grilled cheese sandwich. We love to get creative in the kitchen! After one bite of our burgers, you'll wonder why it tastes better than any burger you've had before. That's simply because we keep it fresh; our burgers are never frozen and always made to order! They are loved by both locals and tourists alike and continuously win for 'Best of the Beach' burgers. Our dishes are a twist on tradition; all while keeping the classic flavors you crave!
Great Value
You might assume that with fresh ingredients and exceptional flavors that our burger creations would cost an arm and a leg. We make sure that you're getting the most bang for your buck with reasonable prices on our handcrafted food that will fuel you up after a beach day. And you can go nuts, literally, because our peanuts are FREE and brought to your table for you to enjoy while you decide which dish you want to indulge in. Some of our locations along the Grand Strand come with a breathtaking waterfront that's also complementary.
Family Friendly Atmosphere
We pride ourselves on being a restaurant in Myrtle Beach where the whole family can gather around the table because we know some of the best conversations on vacation happen over the dinner table. Each River City is a community; from our servers to our staff and all the guests who visit annually on vacation and locals who stop in weekly. Our unique and funky decor is notable and varies depending on the location you're visiting! Our River City in Surfside Beach has a wooden giraffe head hanging from the wall and the River City in Murrells Inlet has a giant sink holding peanuts in the front! But one thing you'll find at every location are the signature license plates hanging on the wall. We want our friends to feel relaxed and at ease while enjoying our burgers. Feel free to toss your peanut shells onto the floor and color on our brown paper table cloths while waiting on your food. Our colorful plastic drink cups are a complementary souvenir and yours to take home with you at the end of your visit!
Scenic Views
The only things that can make our food any better – is a view! Our River City in Surfside Beach is located on the beach and has an excellent view of the ocean and a vibe that explains why its a hub for locals and visitors alike. Whether you're coming in from the beach to refuel or heading out after dinner for an evening walk on the beach, you're only steps from the ocean at River City in Surfside Beach! River City on 73rd Ave in Myrtle Beach is also just steps away from the beach and close to all the action along the boulevard. For views of the waterway, check out our River City Socastee location which is right next to the swing bridge or the River City located in Barefoot Landing!
Dang Good American Food
We know what you like – fried, fresh, and flavorful! Our menu features the shining stars of American cuisine – burgers, hot dogs, and even fried catfish. Everything that comes out of our kitchen is handcrafted and made fresh to order, just for you. It doesn't get more American than a jumbo hot dog piled with chili and a side of crispy onion rings!
To check out for yourself why we're the local burger joint that both locals and tourists go nuts over – stop by any of our seven restaurants conveniently located around Myrtle Beach.