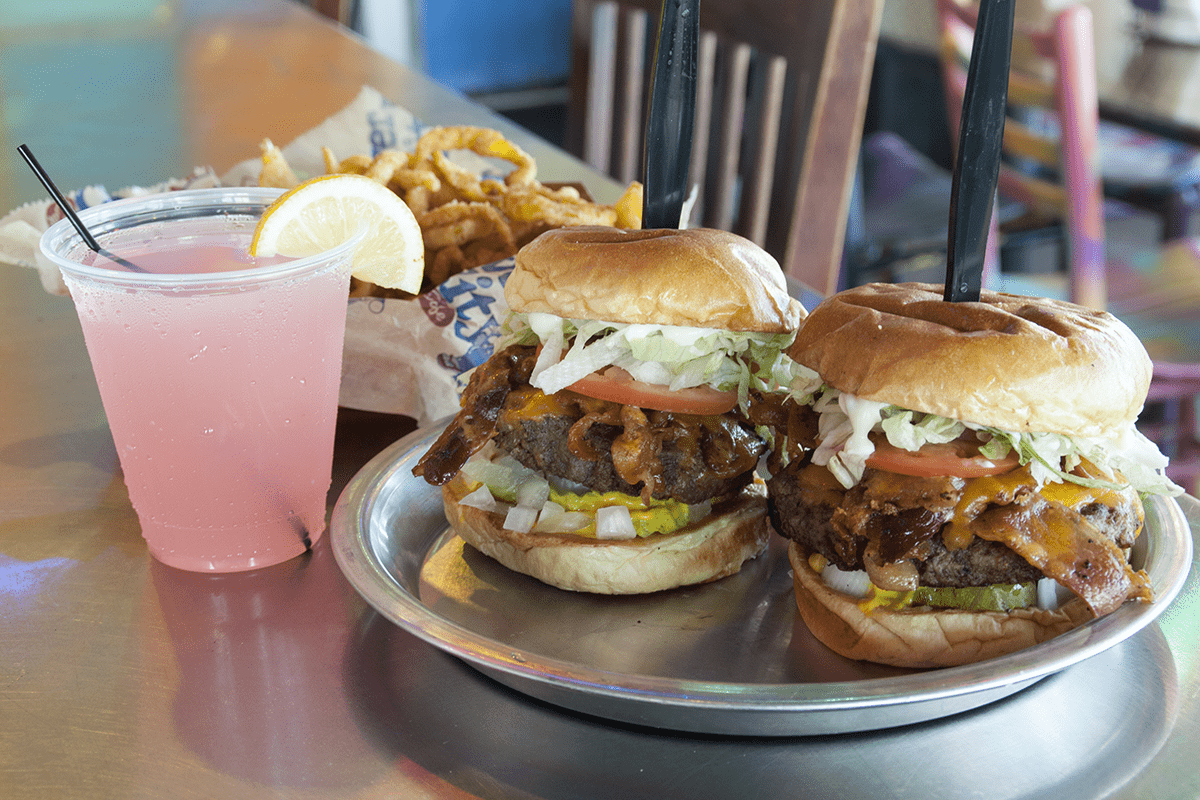 Craving a juicy burger? On the search for a local Myrtle Beach burger joint that's got tons of options? We've got 5 reasons why we believe at River City Cafe, we've got the best burgers in Myrtle Beach!

1. Proprietary burger recipe
That's just a fancy way of saying we have our own recipe comprised of  the perfect blend of spices. We only use quality ground sirloin and ground chuck for our juicy burgers. Our patties are also made fresh to order, and are NEVER frozen. That's why when you bite into a River City burger – it has a unique taste you can only find here! And why our biggest fans have even begged us to ship them burger patties in the mail!
2. Egg wash bun
Not only is our burger recipe created just by us, but our bun is a proprietary recipe as well. We take great pride in crafting something that serves as the bottom and top layer of our burger – and is guaranteed to be in every bite (unless you get some of our burgers like the Fork & Knife burger or 'OMG' burger of course).  Our bun is lightly coated in egg wash on top and buttered on the insides before it's placed in the oven to toast.
3. Tons of toppings
If there's one thing we don't skimp on at River City, it's toppings. We offer a wide variety of fresh ingredients and toppings you wouldn't dream about adding to your burger. There are your typical toppings – bacon, tomato, lettuce, pickles, grilled mushrooms, mayo, chili, coleslaw, egg, guacamole and onion. For cheeses we offer a choice of American, Cheddar, Provolone, Swiss and Pepper Jack. Then come some of our outrageous toppings – pepperoni, marinara sauce, gravy, homemade pimento cheese, peanut butter, bananas, fried mac and cheese, banana peppers, Doritos and Cheetos chips. So go ahead – let your taste buds go wild and order a burger with crazy topping combination!

4. Alternate Options – Veggie or Turkey
For those that enjoy digging into a burger – but not one made of sirloin and chuck – we do offer veggie and turkey burgers. Our Turkey Burger is comprised of fresh ground turkey and comes grilled or cajun spiced. And for those that aren't meat lovers, we offer a veggie burger. Any of our 'World Famous Burgers' can be substituted for a veggie or turkey burger – so you won't miss out on flavorful combinations!

5. A burger for everyone
As you can tell by now – we pride ourselves on serving up a wide variety of creative burgers that are loved by both tourists and locals alike. We are voted year after year for having 'Best of the Beach' Burgers. And believe with our long list of toppings and variety of meat and veggie options – we do in fact, have a burger for everyone!
And recently our burgers have gained popularity even outside of Myrtle Beach. Our 'OMG' Burger made it on Food Network's list of America's Top Most Outrageous Burgers! Talk about national recognition!
Be sure to stop in one of our seven locations to get your burger fix. We have restaurants from Surfside Beach all the way up to North Myrtle Beach and some of the views are just as amazing as our burgers!