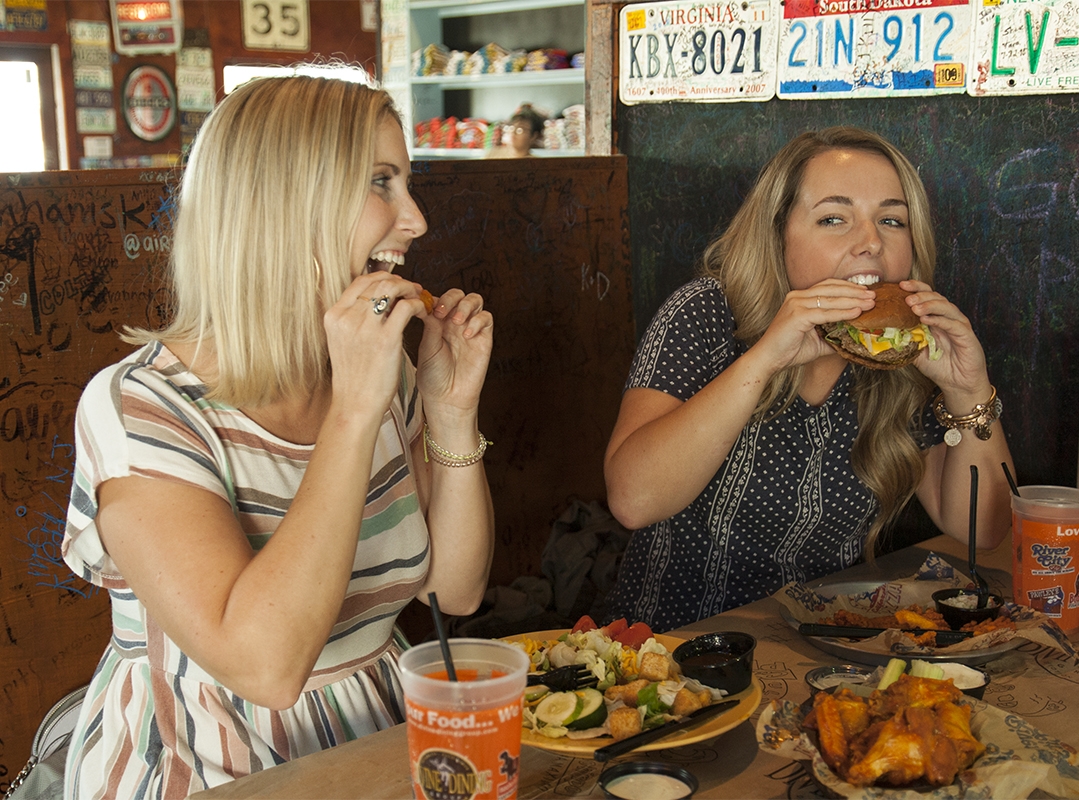 River City Cafe is an local burger joint in Myrtle Beach that specializes in handcrafting 'Best of the Beach' burgers. We provide a fun family friendly atmosphere that's as eclectic as our wall art (yep – that's a giant giraffe head) and toppings (banana and peanut butter anyone?). At River City, our guests are family. The vibe is relaxed and you can throw peanut shells on the table and color on the tablecloths. Before you come dig into one of our juicy burgers, you may have a few questions. So we've compiled a list of frequently asked questions to help you out!
Are animals allowed in the dining room or on porches or patios?
Although our mascot is a raccoon, unfortunately no, animals are not allowed on the premises per DHEC regulations that require certain additional sanitation station modifications to each pet friendly area. Service animals are permitted.
Do you offer Gluten Free options?
Though we do not offer a certified gluten free kitchen environment for those with medical restrictions, we do offer several options for those following a gluten free lifestyle. Please speak to your waitress or give the location a call to see what their current gluten free offerings are.
What allergies do you accommodate?
At this time River City utilizes ingredients that contain milk, eggs, soy, wheat and flour, and peanuts. River City also utilizes vegetable oil in our fryers. Please call us if you plan on visiting for more detail if you have concerns and we will try our best to accommodate your needs.  
Do you offer vegetarian and vegan options?
We love getting creative in the kitchen – and that includes pleasing all types of diets! We do offer various vegetarian options as we have salads, a vegan veggie burger, and appetizers that do not contain meat. Please be aware that our breading wash does contain egg.
Do your locations have alcohol or a bar?
Beer and burgers go together like PB & J! So yes – of course we do! All of our locations offer liquor, bottled beer, and wine as well as various amounts of bar seating. Our 73rd Avenue location even has an outdoor tiki bar!
What sort of dining areas do you provide?
Remember how we said our guests were family – well we want to make sure you're comfortable! We offer tables, booths, and patio/porch dining of differing styles based on location. Our 73rd Ave location offers an outdoor tiki bar while our Surfside Beach location boasts gorgeous ocean views from its porches. All of our locations feature a great locale to either a stunning ocean or waterway view or close proximity to local Myrtle Beach hot spots and thrilling attractions.
Do you have private dining areas?
We do offer a private dining room that is available to reserve at no cost in our off-season at our Surfside Beach location. This spot is perfect for a holiday gathering, birthday party or family reunion! And did we mention this room overlooks the sparkling Atlantic Ocean? Talk about a party with a view! Give them a call for current availability and offerings.
Do you take reservations?
We do not take reservations at this time, but if you are with a large party or planning to bring a large party, just give us a call ahead and we will try to accommodate you as best we can or advise you when is best to come in. Please remember that seating is a first come first, serve basis so calling ahead does not guarantee seating when your party arrives.  
Do you have live music?
Although our delicious burgers might have you singing, unfortunately we do not offer live music. However, if you're dining at our Shore Drive location, you can listen to live music from Ocean Annie's during the summer season, which is steps away from the restaurant.
Do you offer carry out or delivery?
Of course you can grab something off our menu to take home with you! But if you order carry out, you will have to pick it up because we do not deliver.
Do you offer any specials or happy hour?
No we don't offer any current specials or a happy hour.
Do you have social media accounts?
Of course! We have fun and informative Facebook and Instagram accounts where you can find updates, useful info, and specials. Follow us on Facebook at Facebook.com/RiverCityCafe and on Instagram at RiverCityCafeSC.
Do you offer a kid's menu?
We know kids love burgers so yes, we offer various fun-sized entrees for kids.  
What type of dining experience can I expect?
We are a rustic, family oriented and super fun spot to eat! Expect peanuts on the floor, and a laid back, beach casual atmosphere at all of our burger shacks!
What type of food does your menu offer?
Our menu is chock full of over 20 fresh, never frozen burgers made of a secret proprietary beef blend and seasoned to perfection. You can also sink your teeth into chicken breast sandwiches, turkey burgers, and many delicious appetizers and classic sandwiches like philly's, reubens, and shrimp po boys!
What are your hours of operation?
We're open everyday from 11:00 a.m. to 10:00 p.m.
Do you have merchandise for sale?
Yes! We know a burger makes for a messy souvenir so we have plenty of gear for sale. Just see your location for our current styles and size availability.
We hope this helps answer some of your questions! And feel free to give us a call if you have any additional questions.