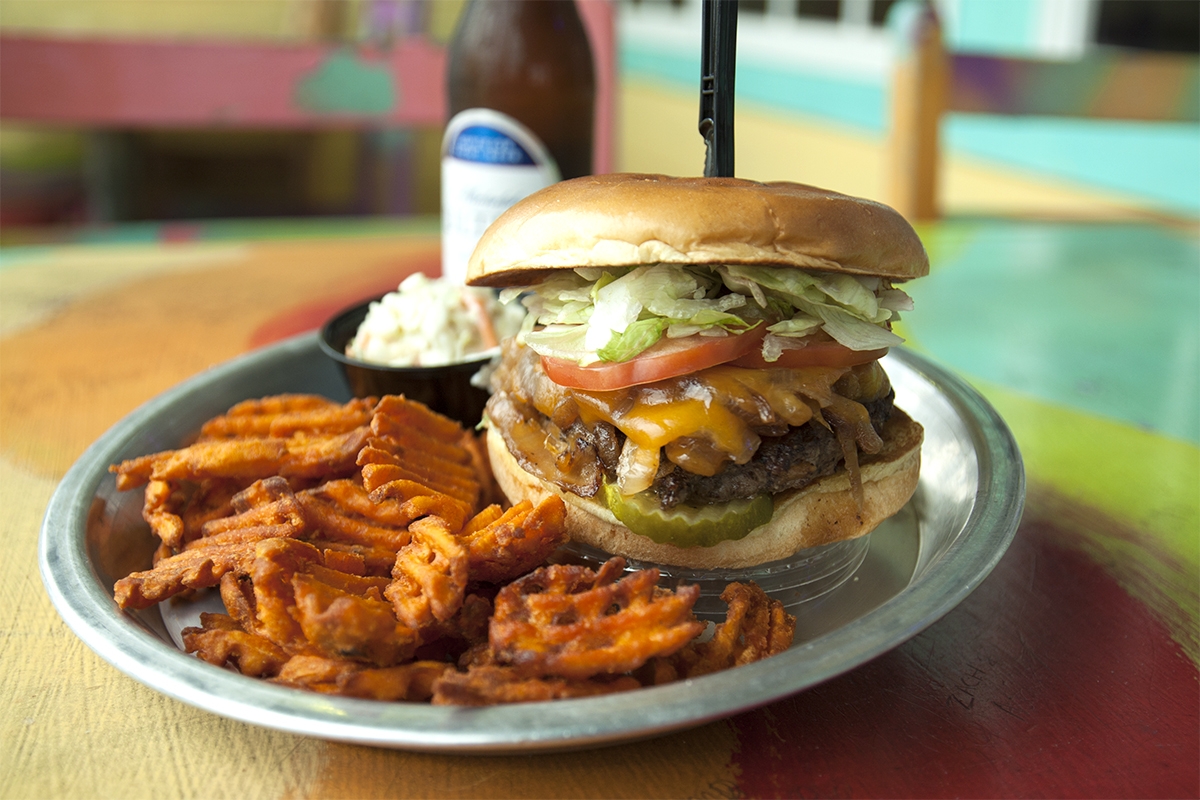 If you made New Year's Resolutions to try new things, we've got the right food for you! At River City Cafe, we may be known for our 'Best of the Beach' burgers, but we also serve up a wide variety of sandwiches, salads and other dishes, so you never have to worry about leaving hungry.
As a local burger joint in Myrtle Beach, burgers are kind-of our thing. Regardless of how many times you've scanned our menu, they're are still probably a few hidden gems you've passed over. Our Three Alarm Fire Burger is fiery and has the spice-potential to make you cry for your mama, so proceed with caution. We take our fresh beef patty and spice it up with some cajun seasoning, then smother it in hot sauce. To top it off we add jalapeños, pepper jack cheese, lettuce, tomato, and spicy chipotle mayo. Oh yeah, this is not for the faint of heart!
Can't stand the heat, but love a more mild, bold flavor? Try our Texas BBQ Burger! We begin crafting every burger with a fresh, never frozen, beef patty so you know it's the real deal. We top that with crisp hickory smoked bacon, bold bourbon bbq sauce, cheddar cheese, and crunchy fried onion strings. The mouthful of southern flavors will keep you coming back for more after just one bite!
We're known for being the kind-of joint where you're allowed to throw your peanut shells on the floor, but did you know we also have a Peanut Butter Banana Burger? Oh yeah, you're gonna go nuts for this one! Our fresh beef patty is topped with creamy peanut butter, banana slices, and mayo. This Elvis-inspired burger is perfect for the adventurous eaters and anyone who wants to taste the nostalgia of their favorite childhood snack.
Where are all the cheese lovers at? Our menu is loaded with burgers, but if you're the kind to bypass everything and go straight for the cheese fries, you'll be more than pleased with our warm and gooey melted cheese on top of hand cut fries. For those cooler nights, venture out and try our Homemade Texas Chili. Our chili is medium hot, so not too spicy, and topped with diced onions and cheddar cheese.
So what are you waiting for? Stop by one of our seven locations along the Grand Strand and get those resolutions in motion! We can't wait to see you soon!