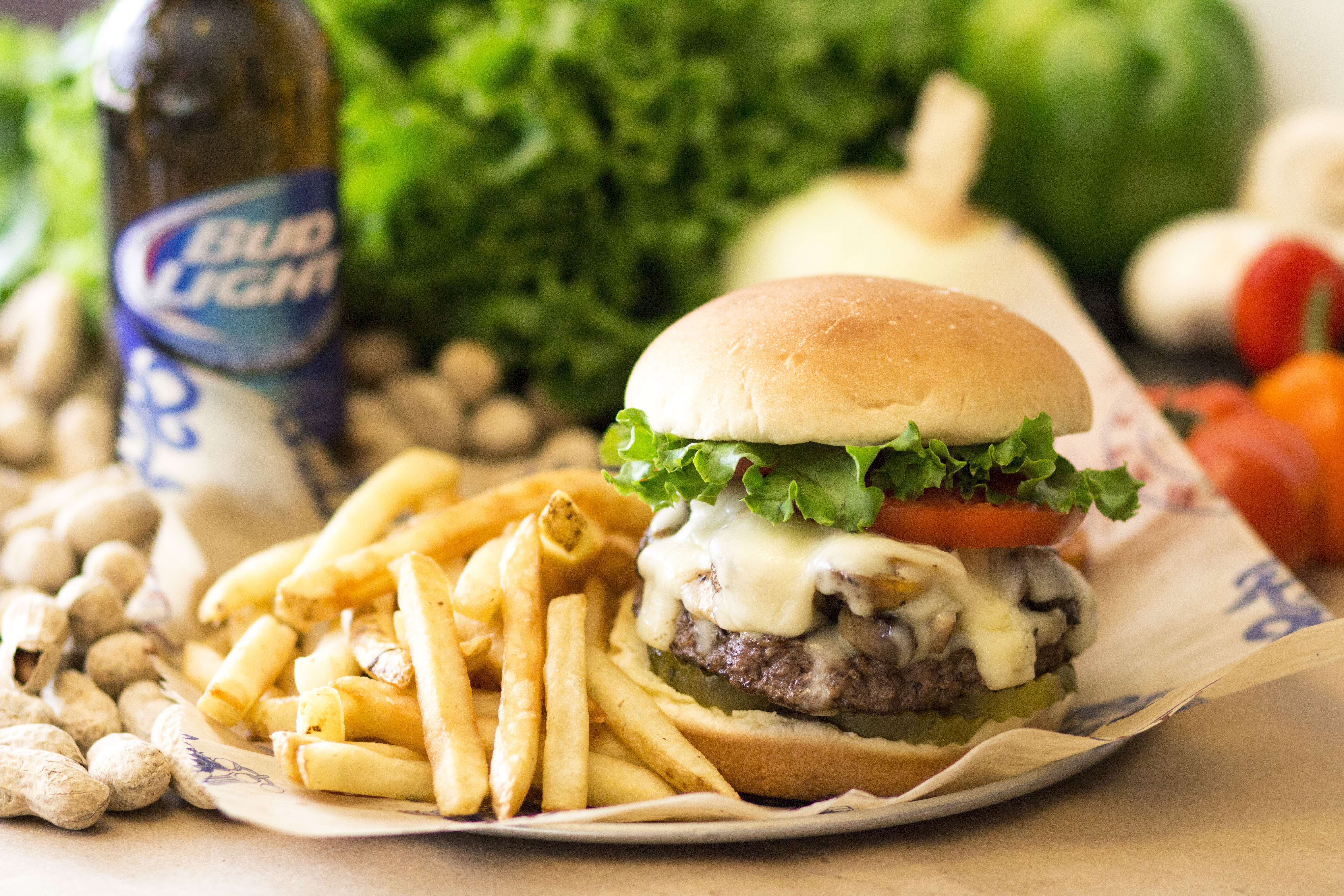 At River City Cafe our slogan is "It's all about the Burger", but we have never ignored what's NOT on the inside either. When your menu hosts 35 different "burgers", it becomes incredibly important to focus on the other items that create the meal. From the buns to the toppings, the burger is just the first step.
Of course we didn't achieve this overnight. As a matter of fact, it took us more than five years of sampling different blends of beef and different patties in combination with our own mix of specialized seasons to arrive at the fresh, never frozen patty we use today. But we didn't stop there. We have a veggie burger and a turkey burger that can please any palate. Still not what you are looking for? How about a Chicken Burger? Yep we have those too!
But I digress. Yes, the meat we use in our burgers (or don't use for our veggie burgers) takes all the glory, but it's the extras that kick off the party that is about to happen in your mouth. Of course we have the standard options of lettuce, tomatoes, onions, mayo, pickles etc, but that is where normal ends with our burgers. We have some pretty extreme options to create the perfect burger for you.
We could have stopped with sautéed mushrooms and bacon or even with just a few different types of cheese, but then we would have been just like every other restaurant. River City Cafe is never content with being standard. We are always going to go one step further. So putting fried banana peppers on a burger with lettuce tomato and chipotle mayo just makes sense to us.
We are locked into using the same bun for every burger either. If you aren't interested our traditional toasted bun, we have some other options for you. Pile your burger high with our homemade pimento cheese, lettuce, tomato, onions, pickles, mustard and mayo and bookend it with a wheat bun. Or settle in with a knife and a fork as we serve up a grilled patty smothered in grilled mushrooms & onions topped with gravy all over some toasted Texas Toast. Or maybe you aren't a fan of a bun at all, guess what, we can serve your burger without one!
Not extreme enough for you, don't worry, I'm not done. Let's spice things up a bit. Let's pile banana peppers on top of a burger with lettuce, tomato and chipotle mayo. Or how about the shoestring Shoestring Burger. Lettuce, tomato, fried onion strings and a spicy petal sauce. Just enough for you to ask for a quick refill. Still not enough for you? Now let's get really radical. Let's take a Cajun spiced burger, smothered in hot sauce, with jalapeños, pepper jack, lettuce, tomato and spicy chipotle mayo. Don't worry our friendly servers will be ready to refill your drink as soon as you need it.
Ok so you don't want extreme, how about crazy? Crazy as in loco. Our Loco Burger is the solution. Pulled pork BBQ piled high on our signature burger, topped with pepper jack cheese, fried pickles, lettuce, tomato and then smothered in ranch dressing. Or maybe our Nacho Crunch Burger topped with guacamole, Doritos, jalapeños, pepper jack, lettuce, tomato, onion and spicy chipotle mayo. One step further? How about the Cheetos Burger? Melted cheddar cheese, topped with crunchy Cheetos and mayo. Still not enough? How about our famous Peanut Butter Banana Burger or Fried Mac & Cheese Burgers? They are exactly what they sound like…. AWESOME!
But what about those with a big appetite you ask. I'm extremely hungry, is that burger really going to satisfy me. Don't worry, we've got your covered. Take your pick, The "Kitchen Sink" burger or the "OMG" Burger. It's enough food for two, but we will "Double Dog Dare 'Ya!" to eat it all by yourself!