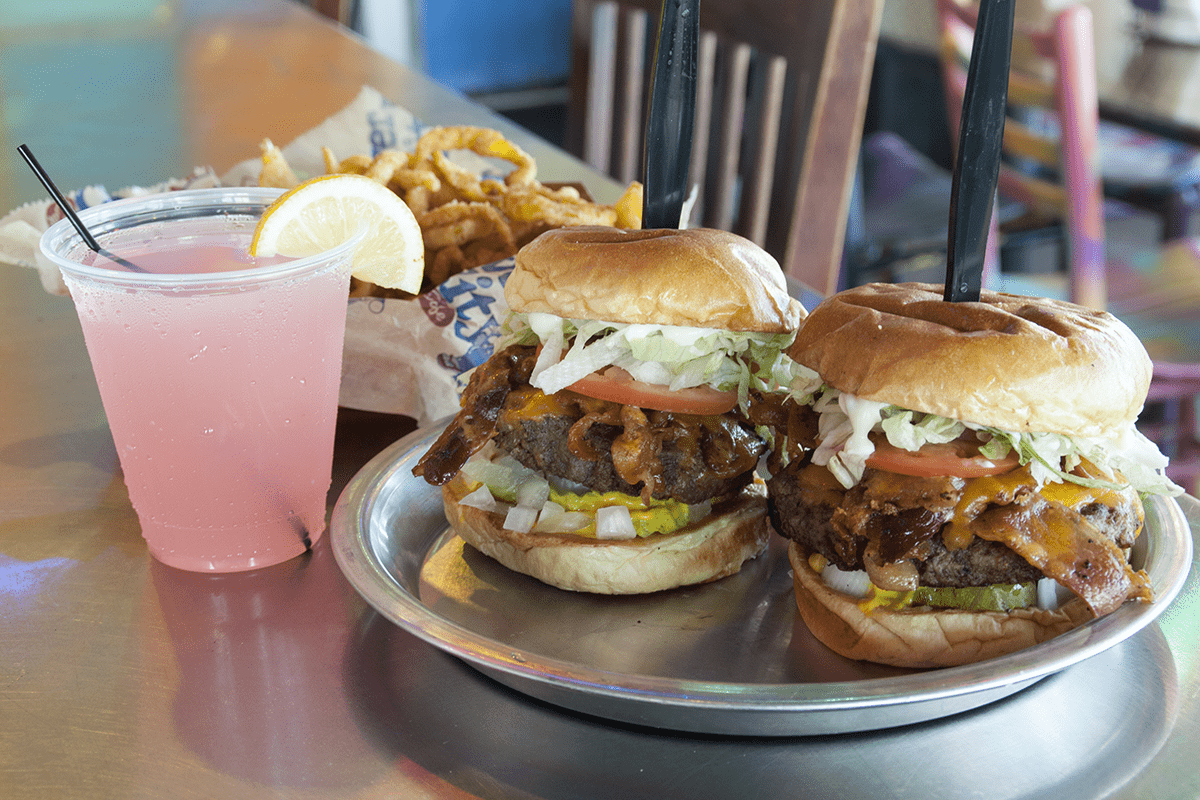 Summer has arrived and with it, thousands of beach goers, visitors from out of town and out of school students. For our visitors, that means fun can be found at any corner, sunburn, miniature golf and new food experiences. For the locals it means taking a break from the stress of school, enjoying the beach, and sitting a little longer at traffic lights. However, we all have one thing in common, we are all looking for a great place to eat.
If you don't know us yet, allow us to introduce ourselves. We are River City Café. With seven locations along the Grand Strand to serve you, we are sure to have a location near your hotel, or close to your beach destination. We are well known for our 'Best of the Beach' Burgers, outdoor seating and eclectic decorations.
With a large, diverse menu we are a great place to find some peace and relax. Speaking of menu, let's take a look at some of our options. As we mentioned, we are well known for our burgers. Of course, we have some traditional options like the Bacon Cheeseburger, Swiss Mushroom Burger and "House" Cheeseburger, but that is where traditional stops for us. We have some very different options too!
Let's start with our Fried Mac & Cheese Burger. We take a large quantity of mac & cheese, coat it in a breading and deep fry it before carefully layering it on top of melted American cheese and a seasoned hamburger. It is a fun combination that will give you a unique combination of textures not normally found on a burger.
Next up is our Loco Burger. We start with our well-seasoned burger, and top it off with pepper jack, cheese, fried pickles, lettuce and tomato and then we smother it in ranch dressing. Most restaurants would stop there. We aren't most restaurants. Before we deliver your Loco Burger, we are going to pile it with BBQ pulled pork for that extra bit of River City flavor.
Maybe you prefer a Turkey Burger? How about we top it with your choice of cheese, lettuce, tomato, onion, pickles mustard and mayo? Not enough for you? No problem, we are River City Café after all. We can offer you hickory smoked bacon, sautéed mushrooms, onion straws, Texas chili, grilled onions, a fried egg, guacamole, jalapenos, fire roasted peppers and banana peppers as additional offerings for you. Still not enough? How about the Nacho Crunch Turkey burger? Topped with guacamole, jalapenos, Doritos, lettuce, tomato, onion, pepper jack cheese and spicy chipotle mayo, this burger takes creative to a whole new level!
But we have many other offerings that aren't on the burger portion of our menu that are worth mentioning. For example, some of our beach favorites are worth experiencing! The Reuben is a great way to start. Featuring thinly sliced corn beef and sauerkraut and then topped with flavorful swiss cheese and 1000 island dressing on grilled rye bread. Or maybe our grilled ham and cheese is a little more up your alley. Smoked ham, thinly sliced and topped with American cheese and served on your choice of grilled bread. Looking for a bit more, add bacon and a fried egg to the sandwich for even more flavor.
Of course we have platters, chicken burgers and our signature appetizers as well, but even if you are looking for something even lighter we do have a great selection of fresh salads to satisfy you on a hot summer day.  Fresh greens, tomato, cucumbers, and an assortment of other toppings will be sure to fulfill that craving for a healthier option.
So regardless of what you are hungry for, if you have had your fill of the beach, miniature golf courses and other fun and just need a break or a place to relax, find a River City Café. We can provide the break you need!