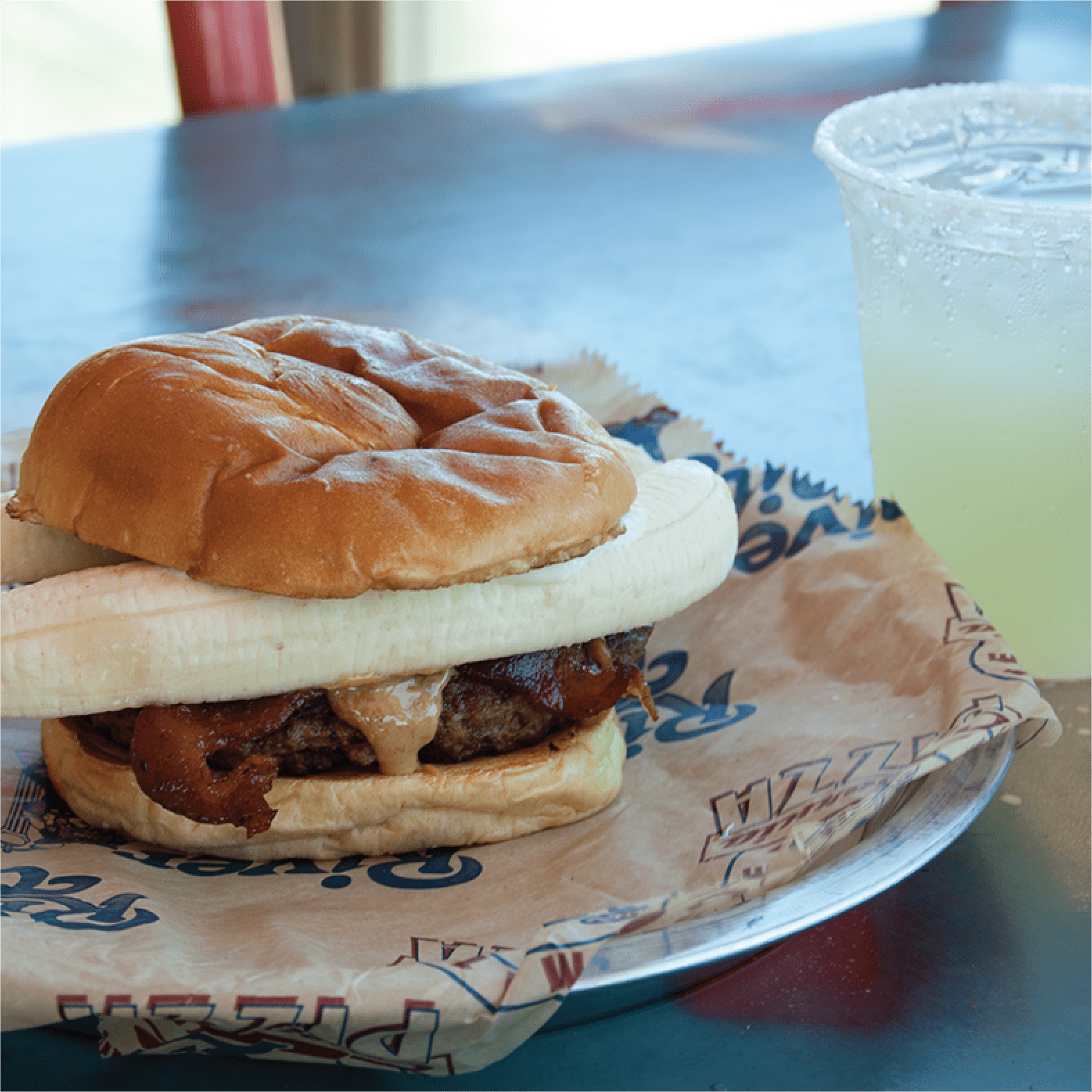 Let's be honest, when you look at our menu, "normal" isn't exactly a word that comes to mind. Sure we have some typical offerings like our "house" cheeseburger, or our chicken fingers platter, but that is pretty much where it stops.
There are not a whole lot of burger joints in the world that put as much emphasis on their burgers as River City Café. We have 35 different burgers on our menu. You don't create 35 different burgers without having a true passion for burgers.
That passion has allowed us to gather inspiration from many places. When we were kids, we used to put what our parents thought were silly things on our sandwiches. Well, we don't think they are that silly. So we created our Nacho Crunch Burger by adding Doritos, jalapenos and pepper jack cheese. Then we thought, why not try to add Cheetos to a burger. Boom! We now have a Cheetos Burger. We liked the crunch and the extra flavor blend it creates when added to our proprietary meat and seasoning blend so much that we added them to the menu!  Of course we didn't stop there. We created a Pizza Burger, a Texas BBQ Burger and an amazingly flavorful Turkey Burger, and we can put Doritos on all of them.
That would have been enough for most restaurants.  Not River City Café.  We wanted to consider other flavor combinations as well. Why not really go off the deep end? Let's take some inspiration from one of the greatest performers to light up a stage. Why not let Elvis inspire a hamburger. Let's grill up a burger, layer it with creamy peanut butter, bananas and mayo. Why? Because we can, so we did.
We still didn't stop there. We wanted to create a burger so delicious and fulfilling that it would change Myrtle Beach. We put our heads together and started piling ingredients higher and higher and eventually we realized that one burger was never going to be enough. So we made two!
The "OMG" Burger Platter features two patties topped with hickory smoked bacon, Swiss cheese, cheddar cheese, mayo, lettuce, tomato and fried onion strings. That would never be enough so we stuffed it between two fried egg and cheese sandwiches because a normal bun couldn't handle the stress of it all. To finish out the plate, we added a pile of fries, two GIANT fried onion rings and our delicious coleslaw.
On the second burger, we took everything else and create our "Kitchen Sink" Burger Platter. Two of our seasoned patties stacked and decorated with Texas chili, hickory smoked bacon, grilled onions, jalapenos, mushrooms, Swiss cheese, cheddar cheese, lettuce, tomato, pickles, mustard and mayo. Now if the "OMG" Burger couldn't be contained by a bun, the "Kitchen Sink" Burger certainly can't. We bookended it with two grilled cheese sandwiches. The plate was rounded out with a pile of our fries, two GIANT fried onion rings and coleslaw.
If you are tired of the "normal burgers", if you are looking for something to appease your palate, set your taste buds on fire, or even just give you a great burger experience; visit your nearest River City Café, we have locations all over the Grand Strand and we are sure to have your new favorite burger.