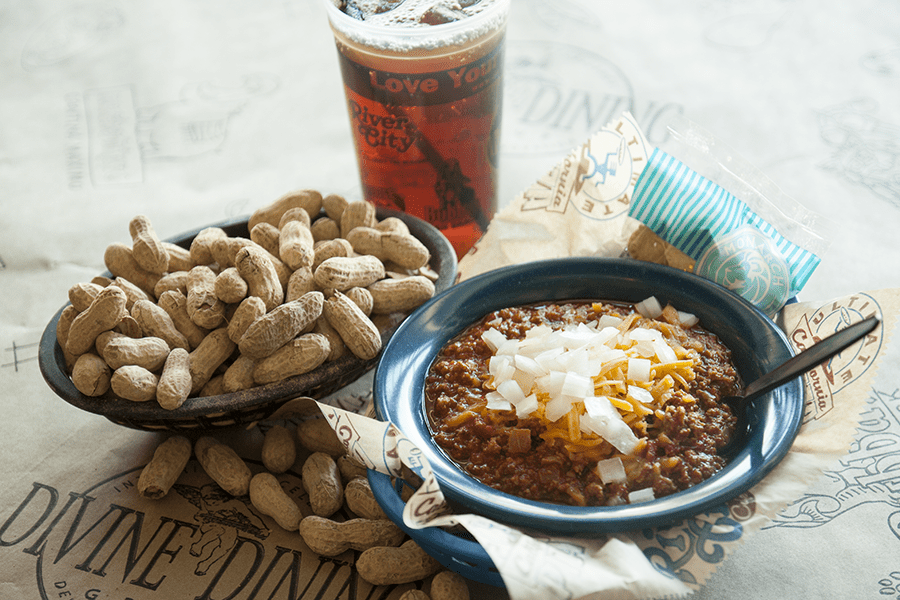 At River City Café we are quick to boast about our "Best of the Beach" Burgers and fries but it's that time of year where you start thinking about something that warms more than the taste buds. I give you our Homemade Texas Chili! But before we dive into our chili, let's explore some different styles of chili around the Country.
Believe it or not, there is actually a governing body for chili known as the International Chili Society. This group defines "traditional red chili" as any kind of meat or combination of meats cooked with red chili peppers, various spices and other ingredients, with the exception of beans and pasta which are strictly forbidden. Of course this kicks off the "Beans vs. No Beans" debate that tends to generate more aggressive feelings than whether or not pineapple belongs on a pizza. They do go on to say that beans can be included in different types of chili.
The next question that needs to be answered is: What is the difference between Texas chili and regular chili? It is probably easier to define what the other kinds are first. But just know that Texans are very proud of their chili and will always stand by the belief that theirs is superior. 
Let's start out west with a version popularized by Mexican Americans in New Mexico. Chile verde features pork shoulder marinated in a chile verde sauce made from tomatillos and jalapenos, seasoned with lime zest and often thickened with white potatoes. Another option found in New Mexico is Carne Adovada. This version is a pork shoulder cooked in a thick chile marinade and is typically poured over corn tortillas creating a very hearty taco.
If you go to the mid-west, you find many different variations. For example, in Cincinnati you find Skyline Chili. One of the more unusual recipies, but beloved and sworn by residents of the area. This style of chili was made popular through the restaurant chain Skyline Chili and has developed an almost cult-like following that has pushed the recipe across most of the state of Ohio. It is more of a sauce than a stew, but Skyline chili is made with ground meat, tomatoes, and a touch of chocolate and cinnamon to add a sweet taste to it. You can get yours delivered on top of spaghetti or on a Coney Dog.
Springfield chilli, spelled with an extra "L", puts their own major twist on this classic dish as well. Springfield chilli is made with ground meat, bacon, tomatoes, beans and cooked in a can of beer. Normally this soup is topped with oyster crackers and shredded cheese.
Kansas City- Style Chili is a little more difficult to specify. Most often you get to order this type of chili the way you want it. You normally get to choose how juicy you want your chili as well as what toppings you add to your meal: onions, grated cheese, ketchup? You name it, you can make it. But the base of the meal starts with either burnt ends of brisket or pork shoulder, Worcestershire sauce, beans and a kick of cumin.
In Texas, there is no room for beans in their chili. More of a glorious beef stew full of flavor! Texas are adamant about not adding beans to their chili and will go as far as to comment on one's arrogance and ignorance for their willingness to add beans. Texas Chili directly adheres to the definition of traditional red chili.
Now that you know some of the differences, let's talk about the bowl of happiness we serve at River City Café. At River City Café we have decided to follow the Texas school of thought. You won't find any beans in our chili. What you will find is a bowl full of medium hot "yum" topped with onions and shredded cheddar cheese. Our chili is the perfect blend of ground meat, chopped onions, red pepper, white pepper and pickled jalapenos simmered together.
So as the days get shorter, the nights get cooler, and you start craving something hot and hearty to warm you on the inside, stop by River City Café. We will be happy to get you a warm hearty bowl of our Homemade Texas Chili.