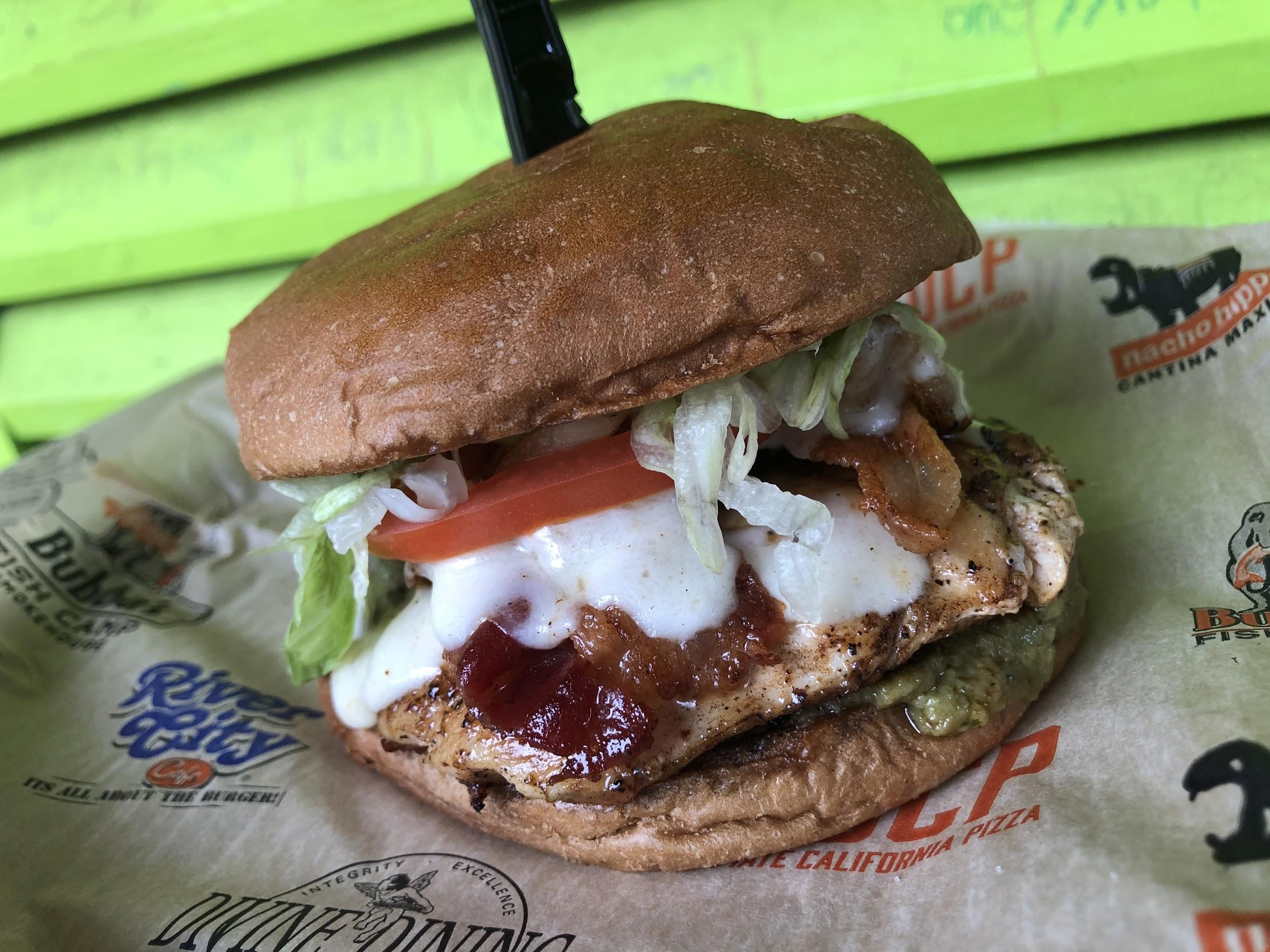 At River City Cafe we spend a lot of time focused on our traditional and specialty burgers. This year, as crazy as it has been, allowed us to focus on creating a new burger section of our menu. The "Meatloaf Burgers". Check out last month's blog for more info about those burgers. But this month we are going to look at "Chicken Burgers". A section of our menu that has been there for quite some time, but has been completely revamped and recharged. We have some new sandwiches that we think will entertain your tastebuds!
First things first, if you haven't already had one of our delectable chicken burgers you are probably wondering what it is. A smart question when you take a look at how grandiose some of our specialty burgers are. Well, believe it or not, the main ingredient of our chicken burgers is simply a premium fresh chicken breast. We go a step further and marinate fresh chicken breastS in a pineapple soy blend to give it some extra flavor.  We serve these flavorful creations on our wheat bun.
Two of the offerings on our "Chicken Burgers" section return from our previous menu. The Grilled Chicken features grilled marinated chicken breast or Cajun-spiced with your choice of lettuce, tomato, onion, pickle mustard, and mayo. If you wish, you can add your choice of cheese. The second returning option is our Buffalo Chicken that features a hand-battered and deep-fried chicken breast drenched in hot wing sauce, topped with lettuce tomato and your choice of swiss or bleu cheese crumbles. Two great options with classic flavor profiles.
To complement those offerings we have created some new sandwiches. Three new offerings complete the "Chicken Burger" section of our menu. Our new offerings are the We Be Jammin' Chicken, the Baja BLT Chicken, and the Teriyaki Chicken.
The We Be Jammin' Chicken takes inspiration from the Caribbean. It features our marinated grilled chicken breast and is topped with smoked ham, pineapple, Jamaican jerk sauce, melted swiss cheese, lettuce, tomato and finished with honey mustard all on our wheat bun.
Our Baja BLT Chicken pulls its influence from the Baja peninsula. The Baja peninsula is well known for its adherence to traditional Mexican flavors. To follow in that path, this chicken burger features our marinated grilled chicken breast topped with guacamole, bacon, melted provolone cheese, lettuce, tomato, and mayo on our wheat bun.
Finally, our Teriyaki Chicken features our marinated grilled chicken breast and is topped with pineapple, teriyaki sauce, provolone cheese, lettuce, and tomato on our wheat bun.
As you can see we have a lot of faith in not only our chicken breast but our marinade as well. It helps us create a flavorful and juicy chicken breast worthy of our menu. When paired with the ingredients on these chicken burgers it adds depth and creates a solid base for the other flavors to mingle.
We believe we have retained the best from our old menu, and added new creations that are certain to please our guests. So the next time you stop by, if you are willing to try something new and a little outside the ordinary, we encourage you to give one of these options a try. We know you will be very pleased that you did.
For more info on the Meatloaf Burger section of our menu, check out last month's blog here: https://rivercitycafe.com/2020/10/28/this-aint-your-mamas-meatloaf/