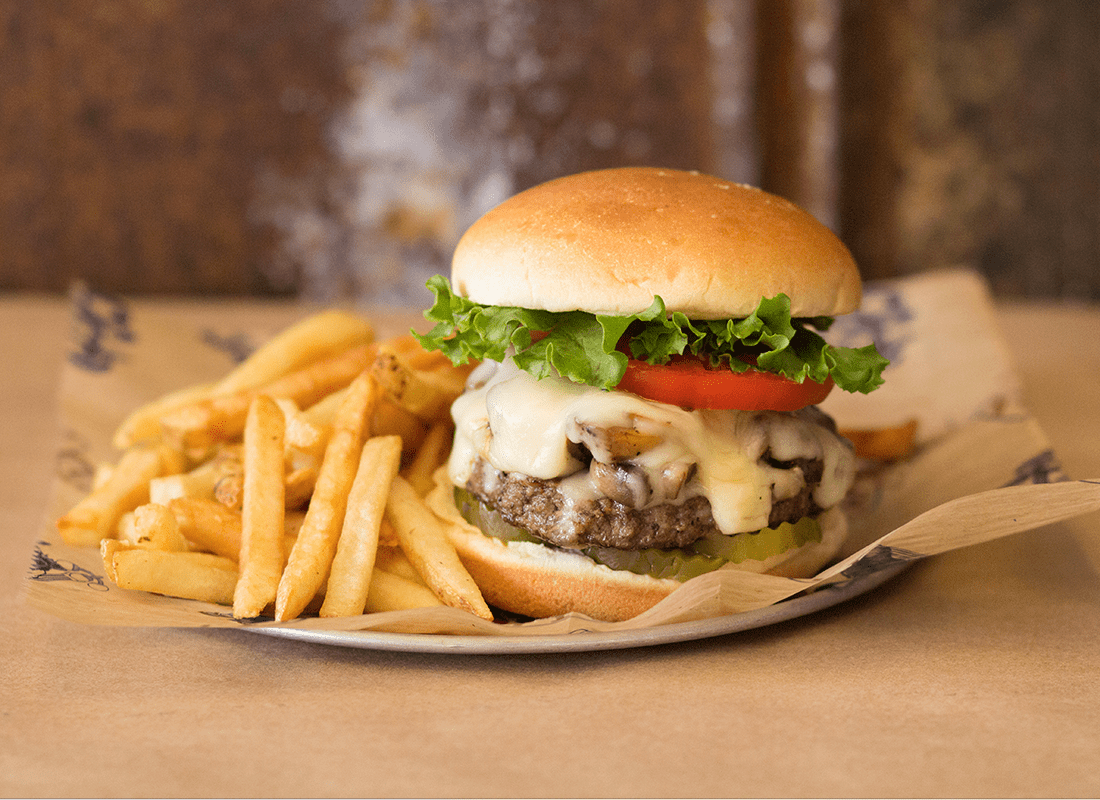 It is no secret, at River City Cafe we put emphasis on our love of burgers and adorn them with different toppings. We've been using the hashtag #allabouttheburger since the pound sign transformed into the hashtag and have been making the beach's best burgers for more than 30 years. We have some pretty unique combinations that have, at the very least, generated some extremely interesting social media conversation and have certainly pleasured palates many times over. But this month, we are going to talk about our "Traditional Burgers." These burgers may not incorporate the wild fusions that our specialty burgers boast, but they are an integral part of our menu.
Our "Traditional Burgers" menu section features seven burger options. Each offering is served with your choice of lettuce, tomato, onion, pickles, mustard, and mayo. They are all served on our standard bun and feature our fresh, never frozen, big, juicy hamburger. We spent years perfecting the blend of meat and seasonings before rolling out to much acclaim from our customers. This perfected burger is the foundation of almost everything we create in our restaurant. We are proud of it and excited to serve it to every one of our guests. Now without further ado, we present to you our "Traditional Burgers"
The first offering on our list is the House Cheeseburger. This burger is the simplest offering on the menu but gives you some big choices. You get your choice of cheese and there are several options! You must choose between American, cheddar, swiss, pepper jack, smoked gouda, provolone, or blue cheese crumbles.
Next up, for all of you, onion lovers out there is the Grilled Onion Cheeseburger. As you would expect this burger is topped with grilled onions and cheddar cheese. You are going to love the sweetness of the grilled onions on top of this juicy and savory burger all complimented by the sharp earthy flavor of the cheddar. You might want to order two!
The next burger we need to discuss is our Palmetto Cheeseburger. Yes, we topped a burger with our homemade pimento cheese. Pimento cheese is a classic southern cheddar cheese combined with pimento pepper dip. It is creamy, cheesy, tangy, peppery, and it easily spreads on top of a burger. It is a great compliment to a juicy and savory burger.
Our Swiss Mushroom Burger smothered in sautéed fresh mushrooms and Swiss cheese is the next burger on the "Traditional Burgers" menu section. A classic combination. Swiss cheese offers a sweet, mild, and nutty flavor to compliment the earthy umami flavors from mushrooms. It creates a wild experience for any palate when piled on a delicious, well-seasoned beef patty.
No burger menu is complete without a Bacon Cheeseburger. Ours is topped with hickory-smoked bacon and your choice of cheese. You can let your imagination run wild here. We all know that the sweet, crispy, buttery flavors of bacon make everything better!
So this one isn't traditional, but very necessary for our guests that are looking to avoid eating meat. Our Veggie Burger offers our guests a tasty vegetarian patty packed full of flavor and served on a wheat bun.
The final offering on our menu pulls its inspiration from several food ideas. Our R. C. Burger combines homemade Texas chili, jalapenos, hickory smoked bacon, sautéed fresh mushrooms, Swiss, and cheddar cheeses on top of a fresh, never frozen, juicy beef patty. You get spicy, earthy, tangy, sweet, buttery flavors that just don't exist without them all being combined!
As you can see we are just as passionate about our "Traditional Burgers" as we are any other option on our menu. So if you are craving a burger, but maybe not something completely over the top, stop by River City Cafe. We have something you will enjoy!
Curious about our locations? Check this out!
Want to see what other offerings we have on our menu? Go here!