Imagine diving into a juicy burger topped with warm, melty cheese, hickory smoked bacon, lettuce, tomato, and mayo, all topped with an over-easy egg that breaks and runs all through that burger…. Nirvana!  Adding an egg to your burger is a total game-changer.  Once you try it, you may never go back.  Decadent, indulgent, and messy, it pairs perfectly with fries, slaw, and a cup of sweet tea!
At River City Cafe, we call it the Continental Burger.  But we have Otto Kuase to thank for this phenomenal idea.  Many people acknowledge that Kuase invented the hamburger in 1891.  It is frequently forgotten that he topped the burger in butter with a fried egg after cooking it.  Unfortunately, due to the date and lack of instant information transfer, one can't be sure that Kuase was the first, but we will assume the internet is correct.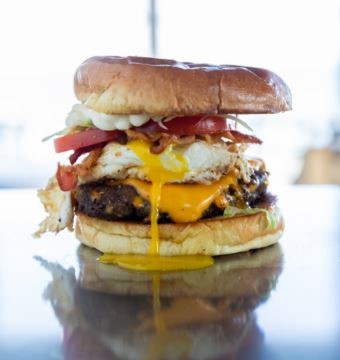 At River City Cafe, we view a hamburger as much more than a mere hamburger.  A hamburger is a blank canvas for a chef to paint.  It is even better when they go outside the lines.  It is a two-handed sandwich, and the only limitations are in one's imagination.  The capabilities are as far and wide as can be conceived, and no ingredients are off-limits.
Of course, adding an egg to a burger is not exactly a home run.  Unlike bacon, cheddar, mushrooms, and Swiss, adding an egg isn't a top-of-mind accouterment.  We are working hard to change that.  River City Cafe has several burgers that push the envelope of acceptable toppings.  For example, our Peanut Butter Banana Burger: if you want to see a polarized conversation, check out one of our posts on social media about that burger.  There is no middle ground.
But I digress.  If you take a moment to ponder the merits of serving a fried egg on top of a burger, it forces you to wonder, is it novel, but nothing more?  Does it contribute anything?
That answer will be different for everyone, but here are some things to consider.  Hamburgers usually require brawny, robust toppings and condiments.  Flavors typically added to a burger are big and bold.  The added flavors practically scream at your taste buds.  An egg is weak in flavor comparison.  But the egg is visually thrilling.  Watching the creamy, silky, yellow yolk spilling lewdly down the charred patty adds fattiness to enhance the indulgence of the burger and makes your mouth water just from the fascinating sight.  The extra layer of umami added to the already delicious meat provides the perfect combination of protein and fats and griddle-seared deliciousness.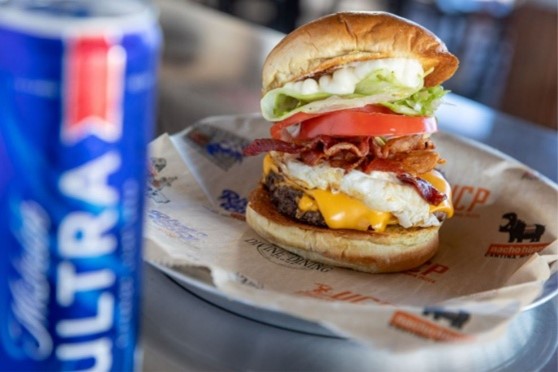 We recommend you give this delicious variation a try.  The Continental Burger offers a palate-pleasing journey that is just as fun for your eyes!
At River City Cafe, we love to create outside-the-box burgers that push the limits of one's imagination.  We don't hold back on using wild ingredients and flavor combinations.  We work hard to please your palate so that you may enjoy the perfect burger experience every time you visit River City Cafe.  We look forward to serving you soon!
Did you know we have seven locations to serve you along the Grand Strand?  Check out all of our locations here: https://rivercitycafe.com/locations/
River City Cafe is proud to be a part of the Divine Dining Group family of restaurants.  Check out our sister restaurants, view our open staff positions, and/or purchase gift cards for your next visit here: https://divinedininggroup.com/